GPs and nurses launch charter for end of life care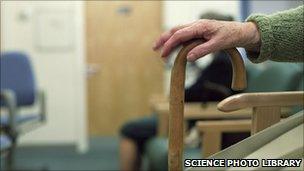 Health staff have made seven pledges to patients at the end of their lives.
The Charter for End of Life Care aims to ensure patients' remaining days are as comfortable as possible.
It includes calls for healthcare teams to do all they can to preserve patients' independence, dignity and sense of personal control.
The document, created by the Royal College of General Practitioners and the Royal College of Nursing, will be sent to 8,500 GP practices in England.
The charter is the result of collaboration between patients, nurses, GPs and others involved in health and social care.
Primary care professionals are encouraged to help patients think ahead to identify choices they may face and assist them to record their decisions clearly.
Patients and carers will be invited to give their comments on the charter, which will be revised over time.
Healthcare teams will also pledge to support friends and relatives, both as patients near the end of their lives and through the subsequent bereavement process.
The Royal College of Nursing said that although end of life services have improved in recent years, there was still a long way to go before they were confident patients will receive the best possible care.
The college has called on primary care teams to use the charter as a standard against which to review and appraise their care.
NHS director for end of life care, Professor Mike Richards, said: "GPs are often best placed to identify people who are approaching the end of life and to initiate discussions with them about their priorities and preferences for care."
Professor Mayur Lakhani, of the National Council for Palliative Care said: "We need to do more to meet people's wishes and needs at the end of life. Someone dies in Britain every minute."
"By implementing [the charter] we can all make 'living and dying well' the norm."
Michelle Mitchell, charity director at Age UK, said: "The Charter is a useful sign of intent. However, older people must be able to expect more from their GP and wider healthcare team.
"All medical staff need more and better training on end of life issues, particularly communication, and there needs to be much closer coordination between health and social care."
Related Internet Links
The BBC is not responsible for the content of external sites.