Health charity says four in 10 people will get cancer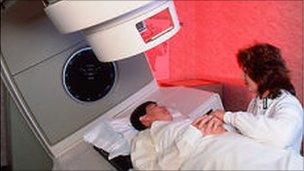 Rising cancer rates mean four in 10 people in the UK get the disease at some point in their lives, a health charity says.
Macmillan Cancer Support says the figure has risen significantly in the past decade.
The charity says the rise poses a "massive challenge" for the NHS.
Ministers in England say they are working to improve cancer survival rates and the quality of life after diagnosis and treatment.
Macmillan Cancer Support says a decade ago about a third of people, or 33%, developed cancer at some point in their lives. The charity says that figure has risen to more than 40%.
The estimates are drawn from projections published two years ago in the British Journal of Cancer, which concluded that at the end of 2008 there were two million cancer survivors in the UK and that the figure was rising every year.
Macmillan also looked at recent cancer incidence and mortality statistics for the UK, indicating that 310,000 people were diagnosed with cancer in 2008.
About 157,000 people died from the disease, and 89,000 who had been diagnosed with cancer died from other causes, making a total of 246,000 who died "with" cancer.
The charity says this accounted for 42% of total deaths in the UK - which stood at 580,000.
Macmillan says the increase is partly down to an ageing population - older people are more likely to develop cancer. It says lifestyle factors, such as diet and exercise, and improved diagnosis have also contributed to the rise.
The chief executive of Macmillan Cancer Support, Ciaran Devane, said the calculations had important implications for the health service.
"It is really alarming that the number of people who will get cancer is now well past one in three and that there are so many more people with cancer today than even 10 years ago," he said.
"There are currently two million people living with cancer in the UK and that number is doubling to four million over the next 20 years. Yet no-one thinks the country can afford to double its spending on cancer. We've therefore got to become twice as effective in how we spend that money."
The charity says there is growing evidence of the long-term health problems many cancer patients are experiencing long after initial diagnosis and treatment. It says there is a need for more services to help people stay well at home, rather than waiting until they require emergency hospital treatment.
The Care Services Minister for England, Paul Burstow, said it was absolutely right for Macmillan to raise this as a major issue.
"We agree with Macmillan. That's why we are working to deliver more personalised care and more help to keep people well in their own homes. We are investing more than £750m over four years to improve cancer outcomes," he said.
The chair of the Royal College of GPs, Dr Clare Gerada, said the figures highlighted the increasing impact of cancer on many people's lives.
"What is clear from this study is that cancer survival is not the whole picture. All healthcare professionals have a duty to see that patients receive the best possible care, and aftercare, following a diagnosis of cancer, and to ensure their patients are not just living, but living well," she said.
Related Internet Links
The BBC is not responsible for the content of external sites.