More hospitals need to close, says ex-NHS boss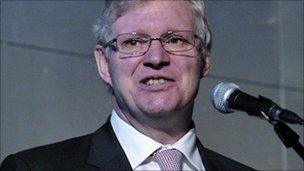 The closure of more hospitals is needed if the NHS is going to cope in the future, a former NHS boss says.
Lord Crisp, who was NHS chief executive in England from 2000 to 2006, said the Blair government should have been tougher when it had the chance.
He said there was now overcapacity in the hospital sector and said the same mistakes should not be made again.
Overhauling hospitals would free up funds for community services to deal with the ageing population, he added.
In an interview with the BBC News website, Lord Crisp said: "In the late 1990s waiting lists, A&E and standards in cardiac care were the big issues and we dealt with them.
"But the challenge now is dealing with the numbers of older people and those with long-term conditions. They need supporting in the community.
"That means a shift away from hospitals. There will be less need for large hospital outpatient departments and some services and whole hospitals will need to close or be merged with others."
He said he could not put a figure on how many hospitals needed revamping, but added it could affect the whole spectrum of services provided.
His remarks come as ministers are considering the future of A&E, maternity services and children's units at three hospitals in north London.
Under the plans drawn up by the local NHS one hospital - Chase Farm - could lose its services.
Local campaigners have been fighting the proposals and a decision is expected in the coming weeks.
It is being seen as a key moment in the government's policy on hospital changes because, in opposition, the Tories promised to fight such closures.
Lord Crisp, who has written a book about his time at the helm of the NHS - 24 Hours to Save the NHS - which will be published later this month, said he did not know the full details of that case, but added it was important not to dodge difficult decisions.
He admitted the NHS under his stewardship in the Blair years should have scaled back on hospital services.
In particular, he admitted that the scale of hospital building projects probably went too far. More than 100 new hospitals or rebuilds were given the go-ahead.
He said: "By 2005 there was no hospital that was not thinking it was going to grow. We had major problems with very bad facilities, [but] perhaps we could have built smaller or consolidated on fewer sites.
"We missed that opportunity and this government needs to grasp that. We can't keep services going just because there is a nice building."
However, he said it was essential that any changes made were done to benefit patients and not just to save money, and that they should be carried out with proper consultation and engagement.
Lord Crisp's intervention comes after similar warnings by various experts. The King's Fund and NHS Confederation have both put the case for scaling back on hospital care in recent months.
Katherine Murphy, of the Patients Association, agreed the government should not be afraid of making difficult decisions.
She said: "What is the point of having brand new hospital buildings if there are not enough funds to treat people in them?"
But she also warned: "We must never forget that by merging services, there will be patients who may struggle to get to them because they are too far away."
A Department of Health spokeswoman said ministers agreed with the principle that more care should be moved into the community, but added changes must be made for the right reasons.
Labour said patients had benefited from the investment and reforms during its time in office.
Related Internet Links
The BBC is not responsible for the content of external sites.