Look out for dementia warning signs, families urged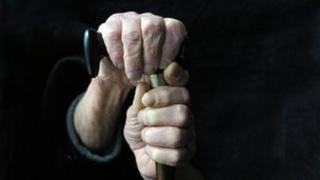 Families are being urged to look out for the warning signs of dementia when they visit their elderly relatives.
It is part of a government advertising campaign in England aimed at encouraging early diagnosis.
Experts believe the festive period is a time when many people realise family members may have a memory problem.
They are now being warned to act on it and seek help by the Department of Health, which is launching a TV and national press campaign on the issue.
The government advert tells the story of a man in the early stages of dementia, and his daughter, who feels she is losing her father.
It highlights the importance of contacting a GP if you have symptoms like memory loss, confusion and anxiety.
"People are afraid of dementia," said care services minister Paul Burstow.
"Rather than face the possibility someone we love has the condition, we can wrongly put memory problems down to 'senior moments'," he said.
"Don't wait until a crisis. Being diagnosed with dementia won't make the condition worse, but leaving it untreated will."
Christmas alert
A lot of relatives first notice problems when they visit family members over Christmas, prompting a big increase in calls to the Alzheimer's Society's helpline. This January it had a 43% rise.
Chief executive Jeremy Hughes said: "It's when you see someone you perhaps haven't seen for a while that you can see the difference."
"If their memory is going, if they're getting confused, if they have sudden mood changes, that's the time to say 'maybe you should see your doctor'."
More than 800,000 people in the UK have dementia - and many are never diagnosed. There is no cure, but with the right treatment, the symptoms can be slowed down.
"Getting a timely diagnosis is vital," said Professor Alistair Burns, the national clinical director for dementia.
"Knowing about their condition helps people gain control, and allows them and their families to seek the support and services they need."
But GPs say those services are not always available to their patients, and that growing financial pressures in the NHS could mean cuts to the level of support they can offer.
Dr Clare Gerada, of the Royal College of GPs, said: "GPs need to have access to a wide range of resources, such as memory clinics, so they can support people beyond diagnosis, and help them live healthy independent and productive lives for as long as possible."
"We have to make sure we're not simply extending the time someone lives with a dementia diagnosis, without giving them the support they need," she added.