'Our devastating experience of childhood cancer'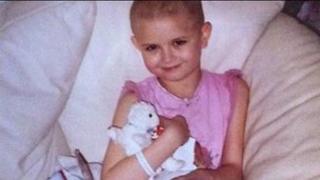 Chloe Gambrill was diagnosed with leukaemia at the age of six. She is now a healthy teenager, but she and her family say it was a devastating experience.
It was when Chloe woke up in the night screaming in agony because she was in so much pain that her parents knew something was wrong.
But this was a real-life nightmare.
For in 2005 at the age of six, Chloe was diagnosed with acute lymphoblastic leukaemia.
Her mum Kelly said it was only on their fourth visit to casualty over the course of a couple of months that her condition was picked up.
"The doctors had been going to send her home. But I had a mother's instinct and knew something was wrong, though I absolutely wasn't thinking it would be anything like that.
"It was devastating."
'Living with the unknown'
Things moved quickly then and Chloe, from Ramsgate, was transferred to the Royal Marsden Hospital in London.
"Within an hour, she was having her first chemotherapy treatment," said Kelly. She carried on having treatment for three years.
"It has to be a long treatment plan because if they do it for a short period of time, what they've found out is that it comes back.
"It was a really hard time. It could be that Chloe was OK and wanted to go to school, or she could be be fine for an hour then have a spike in her temperature and need to be taken to hospital.
"We were living with the unknown every day."
Chloe is now 13, and a competitive swimmer.
She said: "I remember waking up in the night and being diagnosed. It was horrible - one of the worse situations you could be in.
"Some of my friends were scared to come and visit me.
"When my best friend came, she brought a teddy for me - but I was sick all over it.
"Now it seems like ages ago, but it's not really that long."
Kelly says she doesn't think she has got over the experience of her daughter being so ill.
"Even though Chloe's fantastic and doing really well, but when you've gone through all that, it's hard.
"You do wonder if it's going to come back. Whenever she is in pain or has a nosebleed, you're back there. You can't help but worry."
'Need to know'
Chloe won a Pride of Britain award for fulfilling her commitment to run in a Race for Life in memory of her grandma Wendy Parrish who had died of breast cancer the year before, just weeks after she started her chemo.
She was so weak that she collapsed halfway round the course, but she was determined to finish and earn her £100 sponsorship money.
Her mum, dad and older brother Charlie took turns to carry her the rest of the way and help her walk over the finish line.
The family say they do as much as they can to raise awareness.
Kelly said: "Forty years ago, she probably wouldn't have survived. It's incredible to think of the way the treatment has progressed."
Chloe says she wants to tell people about what she went through.
"They do need to know. If they find themselves in the same situation, or their friends are, they need to know."
Cancer Research UK estimates that about 5,600 more children have survived for at least five years after being diagnosed with cancer than they would have done if survival rates had remained as they were in the early 1970s.
In the early 70s, 33% of children survived leukaemia. Today survival rates stand at more than 80%.
This increase in survival is largely due to the development of combination chemotherapy, which uses a number of different drugs.
And survival rates from neuroblastoma (a nerve tissue cancer) in children have risen from 17 to 64%.
Prof Peter Johnson, Cancer Research UK's chief clinician, said: "More children are surviving cancer than ever before and our efforts are continuing to make an even bigger impact.
"Childhood cancers are difficult to research, with relatively few children diagnosed each year. But our researchers are continuing our efforts to find ways to diagnose the disease earlier and looking for new drugs and making the existing treatments even more effective."