Care for high-risk surgery 'falling short'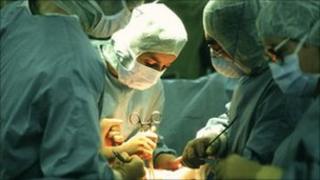 The care given to high-risk surgery patients is falling short of acceptable standards, an independent review says.
The National Confidential Enquiry into Patient Outcome and Death found four in 10 got poor or inadequate treatment.
The expert panel described the findings as "disturbing" after reviewing nearly 20,000 patients in England, Wales and Northern Ireland.
In particular, it highlighted a lack of pre-op checks and insufficient use of critical care facilities after surgery.
Those designated as high-risk patients tend to be drawn from groups who have a number of other health conditions, such as diabetes and heart disease; age and weight are also factors.
Death risk
They are estimated to make up about 10% of the surgical workload, but 80% of deaths.
Of the 20,000 cases looked at by the review team across 300 hospitals, nearly 4,000 involved high-risk patients having either emergency or elective surgery.
Of these, they carried out in-depth reviews on 829.
Over all, the team judged the care in 43% of cases to be poor or inadequate. Of the rest, 48% got good care and for 9% there was insufficient data to make a proper assessment.
Where care was not up to scratch there were some common themes, the report said.
A fifth whose surgery was planned were not seen in a pre-assessment clinic, which led to higher death rates among this group.
And only 22% of high-risk patients were sent to critical care following surgery. The rest were sent to other wards and, where the experts believed this was the wrong decision, there was a death rate more than three times higher
Experts also found patients were not being told about their risk of death, with fewer than a tenth of high-risk patients having their estimated risk put in their notes.
In conclusion, the report recommended introducing a nationwide system for identifying patients who are at high-risk of dying or suffering complications after surgery.
It also called for all high-risk patients to be seen and "fully investigated" in pre-assessment clinics.
Katherine Murphy, of the Patients Association, described the report as "shocking".
"The NHS needs to be far more open and transparent about the risks patients are exposed to," she said.
NHS medical director Prof Sir Bruce Keogh said: "The vast majority of operations performed by the NHS are safe and successful, but all patients, especially those at high risk, should receive good care and all the information that they need about their treatment - anything less is simply unacceptable."