Why Lockerbie bomber survived so long with cancer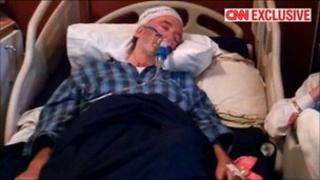 The Lockerbie bomber Abdelbaset al-Megrahi was freed from a Scottish prison in August 2009 on health grounds.
Medical reports and examinations by UK doctors at the time suggested he had about three months to live with prostate cancer.
In December 2009 the Tripoli Medical Centre in Libya said a scan suggested that the cancer had spread.
His condition was deteriorating. Yet he managed to live for over two more years.
How did he survive so long?
Professor Karol Sikora, an oncologist at Hammersmith Hospital in London, examined Megrahi in prison on 29 July 2009.
He found that his cancer was "widespread" and he was at the "end stage" of the disease.
Cancer drug
But the key to his survival may well be linked to the treatment he received after his release.
Prof Sikora said: "The care he received in Libya helped prolong his life. It is almost certainly the reason.
"He had chemotherapy in Tripoli then radiotherapy, whereas he only received hormone treatment in Glasgow."
Megrahi was also taking abiraterone (or Zytiga), a drug for advanced prostate cancer, which he would take in tablet form once a day, Prof Sikora said.
The Cancer Research UK website says that abiraterone works in a different way to other hormone treatments for prostate cancer.
It blocks the enzyme which stops both the testes and other tissues in the body making testosterone, thereby helping to slow the growth of the cancer, or even shrink it.
Abiraterone is not available on the NHS. It is thought that Megrahi's family would have paid for the drug from the US.
No guarantee
Prof Sikora also says every individual reacts differently to terminal cancer.
"Some people deteriorate quickly and die suddenly. Others go through a long, slow decline.
"Doctors can't be infallible about it. We can't predict what is going to happen to one individual.
"Sometimes if there is something they really want to live for, like a wedding for example, then they keep going. I have seen that on several occasions."
In the last few months of his life, reports of Megrahi's demise were rife.
He was reported to have been in a coma at his Tripoli home since last August.
At the time, US broadcaster CNN said Megrahi appeared to be "at death's door".
Following the rebel advance into Tripoli in the same month, Scottish officials had found it hard to keep track of his condition.
However, international development secretary Andrew Mitchell confirmed then that Megrahi's health was deteriorating further.
"His life does appear to be drawing to a close, he's in a coma," he said.