BMA calls for fresh debate on rate of organ donation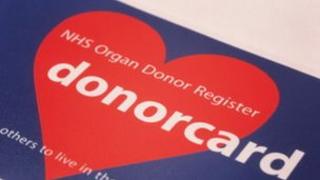 Society should have a fresh debate on organ donation, says a new report by the British Medical Association.
The number of organ donations has increased sharply in recent years but still lags a long way behind the number of people waiting for a transplant.
The BMA says new types of donors may need to be considered, like brain dead patients kept alive on ventilators.
And it calls for an opt-out donation system, where people are presumed to have agreed to donate their organs.
The Welsh Government is planning to publish a draft Bill introducing an opt out system by the summer of 2012.
The BMA report was examining the changes to the organ donation system that have taken place since the publication of the last major investigation by the government-appointed Organ Donation Taskforce in January 2008.
The latest figures show that over the past three years donation rates have improved by 25% compared to 2007/08.
NHS Blood and Transplant, the body responsible for the supply of donated organs, estimates that figure could rise to 34% by April 2012.
But that will still be some way off the target of 50% by 2013 set by the Organ Donation Taskforce.
Still dying
The BMA points out that, even if that figure were to be achieved, people on transplant waiting lists would still be dying because of a shortage of donated organs.
Dr Vivienne Nathanson, one of the authors of the report, says as a society we need to decide if this is a situation that we will tolerate or whether we should look at new methods of encouraging donation.
"These could include an opt-out system, whether we should include higher risk donors or pressing for more intensive care beds in the NHS," she said.
"There could also be legislative options like the possibility to electively ventilate someone - not to benefit their own health but to make them a better donor."
Other areas suggested in the report by the BMA's medical ethics committee include "increasing organ donation from emergency departments, extending the use of living donors, increasing referrals, attempting to reduce the relative refusal rate and targeted campaigns for black and ethnic minority groups".
The BMA itself backs what Dr Nathanson describes as a "soft" opt-in, which presumes donation had been agreed but would allow bereaved families to say no.
But the report says other options could include "mandated choice", where all adults are forced to decide whether they want to become an organ donor; "reciprocity", where those who donate organs, or sign up to donate after their death, receive priority should they themselves require a transplant; or some form of incentive or compensation for donors, for example paying for organs or covering funeral expenses.
Dr Paul Murphy, a consultant in intensive care and Clinical Lead for Organ Donation at NHS Blood and Transplant welcomed the report: "Any initiative that encourages people to think and talk about the importance of organ donation helps to change attitudes and ensures that donation is seen as a routine part of end of life care in the UK.
"We are optimistic that we will achieve the Taskforce's predicted 50% increase by 2013 but acknowledge that this will be tough and all parts of the donation process will need to work to their full potential for us to deliver this goal.
"We will focus over the next year on removing the barriers that currently lead 43% of UK families to refuse organ donation because they don't know what their relatives' wishes were.
"We will also be seeking to enhance the rate of donation from Emergency Departments where the potential is significant but where, as yet, relatively small numbers of donors are being identified.
In Wales the situation with regards to adopting an opt out system for organ donation is a lot more advanced than in England.
A consultation period on the proposals outlined in the Welsh Government's white paper ended last month. The Welsh government have said a bill would be introduced in 2012. Legislation could be in place by 2013 and a soft opt-out system could come into effect in 2015.
Wales will become the first place in the UK to adopt the opt out system.
Kidney Wales believes that the rest of the UK should follow Wales' example.
However, it is Spain that has the highest donation rate in the world, at around 34-35 donors per million population, compared with 16 in the UK.
While it is technically an opt-out system - where consent is presumed - in practice it operates on more of an opt-in model, where consent is sought from the family of the deceased person.
But the report points to some significant differences in organisation and clinical practice, such as a higher number of intensive care beds in Spain and the use of 'higher risk donors'.
In 2009, 45% of Spanish donors were over 60 years of age, compared with 30% in the UK.