Travelling with some of the unsung heroes of the fight against polio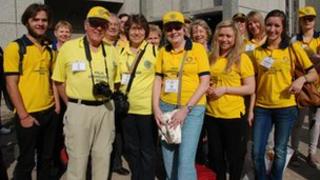 You might well ask what a retired dentist from Berkshire, a businessman from Derbyshire who makes shovels, and a nurse practioner from Lancashire are all doing in the backstreets of Delhi.
Two causes unite them: Rotary and polio.
Dressed in bright yellow shirts, the Rotarians are doing a roaring trade at their impromptu vaccinations booths. The children can't wait to be immunised.
"It's chaos," says Adrian Stabbins, the retired dentist from Windsor. But he has a smile on his face, and is clearly enjoying himself. "We've done 150 vaccinations so far - it's wonderful."
I confess my knowledge of Rotary has been pretty limited. I am used to seeing their symbol on the outside of country hotels in Britain where they meet. I know it's an international network of clubs for professional people who want to serve the community. But that's about it. And why, you may ask, are they concerned about polio?
It began in 1979 when Rotary pledged to immunise millions of children in the Philippines. It was a huge success and the organisation became the first champion of polio eradication.
The group here from the UK comprise many retired couples, a father and daughter and a grandfather and grand-daughter. They pay all their own costs to be here, and spend several days visiting the poorest parts of Delhi immunising children against polio.
Journalists, on the whole, are a cynical bunch. You could argue the money they pay getting here would be better spent in a donation to Unicef or Save the Children. But that would miss the point. When they leave here the volunteers spread the word and help prevent polio from being forgotten about in countries which have long since eradicated the disease.
Rotary has raised $1bn (£630m) to fight polio, and their advocacy has helped ensure that the disease gets a high profile.
Mike and Bernice Yates, from Rotary Club of New Mills and Marple, help organise the trips to India. He says their bright yellow shirts fascinate people and help ensure children are not missed. "The Rotarians who come on these trips really do make a difference. It is about giving something back and there can be no better objective than beating polio".
I'm old enough to just remember polio in Britain. In 1961, around 80 people died from the virus in England and Wales. Ian Dury, who went to my school some years before me, contracted polio as a child and was left disabled by the condition. Even today there are still many people with post-polio syndrome, which can occur decades after initial illness.
What it will take to eradicate polio from Nigeria, Afghanistan and Pakistan - the three worst hotspots for polio - is the same level of political will and organisation seen in India. The world is now at a crossroads - it can build on the success of immunisation in India which has been polio-free for a year. If it does not, the risk is the virus will re-establish itself here and in other countries.
I'll leave the final word from India to 15-year-old Priyanka Kumari. She attends Akshay Pratishthan School in Delhi, which has a mix of children, both able bodies and those with a range of disabilities.
Priyanka got polio as a baby and for the first seven years could only crawl. Then she had repeated surgery and now walks with a crutch and calipers.
Her class performed a dance routine and Priyanka gave a tennis demonstration. "I enjoy tennis and dancing," she said. "But I see my future as a singer. I've never suffered any discrimination having polio. But I will be delighted if no other child has to wear calipers like me."