Mentally ill 'at high risk of being victim of violence'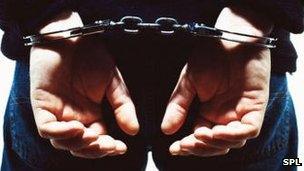 Mentally ill people are four times more likely to be a victim of violence, according to an international study.
One in four has been attacked in the past year, suggests the Lancet journal.
Researchers looked at 26 studies from developed countries, including five from the UK.
Mental Health charities said, despite public fears, people with mental illness were much more likely to be a victim than a perpetrator.
Many researchers have looked into the issue of disability and violence, but the Lancet study combines their results aiming to provide a more reliable answer.
The research team, from John Moores University in Liverpool and the World Health Organization in Geneva, found that in general, people with any sort of disability were at greater risk of violence, with 3% experiencing violence in the previous 12 months.
However, those with learning difficulties were more vulnerable, with more than 6% reporting violence against them, and adults with mental illnesses were even more so.
The study found that more than 24% said they had been the victim of some form of violence in the preceding year.
The underlying reasons are complex, but people with mental illnesses can be more likely to struggle with personal relationships, and have a greater likelihood of substance abuse, homelessness, being imprisoned or living in poverty, each of which raises the risk of being the victim of violence.
Prof Mark Bellis, who led the study, said the results suggested a wider problem.
He said: "Lifetime exposure to violence, and the proportions of individuals with disability who are directly threatened with violence or otherwise live in fear of becoming a victim, are likely to be substantially higher than our estimate."
Simon Lawton Smith, from the Mental Health Foundation, said the results were unsurprising.
"The research sadly adds new evidence to what we already know - that people with a mental illness and people with a learning disability are at a high risk of being the victim of violence.
"Evidence shows that people with serious mental illness are more likely to be the victim of a violent crime than the perpetrator.
"Although research suggests that there are factors that may increase risks of violence - such as co-occurring substance use, or not being engaged in treatment - people living with mental illness are 10 times more likely to be victims of violence than perpetrators."
Paul Farmer, chief executive of the charity Mind, said the charity's own research suggested people with mental health problems often did not feel safe in their local area.
"People reported every kind of harassment from being stalked, verbal harassment in the street, having their homes vandalised and physical and sexual assault.
"Stigma and discrimination against people with mental health problems is still rife, and sadly this can go as far as individuals being victimised in their communities or even targeted in their own homes."
Related Internet Links
The BBC is not responsible for the content of external sites.