Gene therapy aids immune disease, says Great Ormond Street Hospital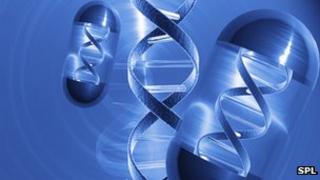 Treatment which aims to correct a rare inherited genetic defect has helped a patient at risk from serious infection, a leading hospital is reporting.
The use of gene therapy against chronic granulomatous disorder (CGD) is a third success for Great Ormond Street Hospital in London.
Patients with CGD cannot make cells to fight bacterial and fungal infection.
Scientists used a virus to deliver a functioning version of the faulty gene which causes the disease.
Clinical trials at Great Ormond Street and its linked research centre, the Institute for Child Health at University College London, have focused on rare immune conditions caused by a single gene defect.
Early trials in 16 patients with X-linked severe combined immunodeficiency syndrome (x-SCID) and Adenosine Deaminase Deficiency causing Severe Combined Immune Deficiency (ada-SCID), who previously were so vulnerable to infection they needed to live in sterile conditions, have worked well, allowing most of them to start enjoying normal lives.
The decision was taken to use a similar technique on a teenage CGD patient who had fallen prey to a serious fungal lung infection, and was not expected to survive more than a year.
One in 150,000 children has the gene defect which causes CGD, and there is only one way to cure it - with a bone marrow transplant.
In the case of the teenage patient, no matching donor was available.
Blood stem cells were taken from him, and the virus was used to insert the functioning gene.
Then, after chemotherapy to remove his remaining faulty blood stem cells, the altered cells were transplanted back into the body, hopefully to rebuild an immune system capable of fighting infection.
The treatment worked, easing his breathing and allowing him to resume his schoolwork.
However, unlike the results in the other trials, the effect is only temporary, and scientists are working to improve the technique further.
Prof Adrian Thrasher said these early results represented "exciting progress".
"This is the third immune disease to respond to gene therapy in our programme, and the response of this patient to our new vector was very good."
He said that trials of similar treatment for a fourth rare disease, Wiskott-Aldrich syndrome, had just started, with research into more common diseases such as cancer, HIV and inherited skin disorders close to use in patients.
Dr Susan Walsh, from the CGD Society, which helped fund the project, said: "It's wonderful to see this work come to fruition and know that gene therapy is being used to help very seriously ill patients with CGD."
Great Ormond Street has announced a major fund-raising drive to raise £66m to build and equip a centre for children's rare disease research.
John Connolly, the chairman of the fund-raising team, said: "The scientists and doctors I've met from the hospital are just starting to unlock the potential of 21st Century medicine.
"But they need our support so that they can grasp the unique opportunity in front of them and accelerate their valuable work to help many more children with many different conditions, some of whom still have little hope of diagnosis or treatment, let alone a cure."
The news comes as theDepartment of Health published a consultation documentabout the first ever UK plan on rare diseases.
They said earlier diagnosis of rare conditions and better co-ordinated care would improve the quality of life for people with such diseases.
Health Minister Lord Howe said: "The UK has a good story to tell about supporting and treating people with rare diseases. But we know the challenges people face and that there is always room for improvement.
"This is the first time the UK has had a coherent set of proposals on rare diseases which outlines how we can build on our strengths through improved co-ordination of services, stronger research and better engagement with patients and their families."