PIP implants: 7,000 more women fitted pre-2001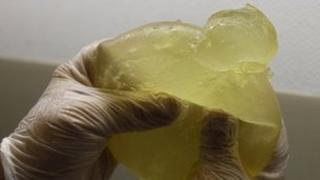 Around 7,000 more women in the UK have been fitted with banned PIP breast implants than previously thought, according to the government.
The original warnings were about breast implants fitted since 2001, however, it has since emerged that thousands were fitted before then.
It brings the total number of women affected in the UK to 47,000.
Health Secretary Andrew Lansley said the women "will be provided with all the help they need from the NHS".
He added: "The French regulator has confirmed this week that more women may be affected by the criminal activity of the French breast implant manufacturer PIP.
"These women are the victims of a fraudulent company and I know this situation is causing a huge amount of anxiety.
The Department of Health said approximately one in five breast implants needed to be replaced within a decade, so some of the women would already have had their PIP implants removed.
Support
It is thought 95% of women had the operation privately, 5% on the NHS. Implants fitted by the NHS will have them removed and replaced.
The government said private clinics had a "moral duty" to remove implants. However, the health service in England is acting as a "last resort" if clinics refuse or no longer exist.
If there is a medical need, which includes distress, and the patient cannot receive an operation from their private company, the NHS will step in to remove, but not replace, the implant.
The former president of the British Association of Aesthetic Plastic Surgeons (BAAPS), Nigel Mercer, said: All women with PIPs - now regardless of date of implantation - should seek advice from their implanting surgeon or clinics to have these defective devices removed or replaced, preferably before rupture.
"The BAAPS have always maintained that these implants are sub-standard and have no place inside the human body."
A panel of experts asked to analyse the safety of the implants said there was no evidence to recommend routine removal.
Prof Dame Sally Davies, the chief medical officer for England, said: "The expert group advises that there is no evidence to suggest that every woman with a PIP implant should have them removed.
"But we know this is a worrying time for them and want them to be able to see a GP or specialist to get reassurance and have them removed if necessary."
The NHS in Wales said it would replace implants only when it was deemed medically necessary.
Women in Northern Ireland who received PIP implants for health reasons will have them replaced, but the NHS will only remove, not replace, those inserted for cosmetic reasons.
Scotland's Health Secretary Nicola Sturgeon said concerned women who had them fitted privately would be offered advice and the option of removal if necessary. There are no records of PIP implants being used by the NHS in Scotland.