Cleft lip research launched in UK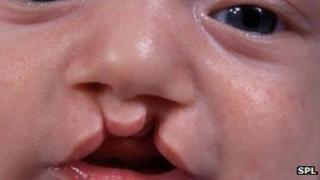 The world's largest research databank for cleft lip and palate is being set up in the UK to determine what causes these common conditions.
These congenital abnormalities affect 1,200 babies born in the UK each year, yet why they occur is unknown.
Parents of babies with these conditions are being encouraged to enrol in the £11m, five-year programme.
TheCleft Collectiveteam will gather and analyse the DNA of these children to see if they can pin down a cause.
And by following these 3,000 or more children throughout their childhood, the researchers hope to ascertain what the best course of treatment is, including which surgery offers the best cosmetic and functional results.
A cleft occurs when separate areas of the face do not join together properly when a baby is developing in the womb.
The Cleft Collective will be run at two Bristol universities, Liverpool University and a clinical trials centre based at the University of Manchester and is partly funded by UK charity the Healing Foundation, with the rest of the investment coming from universities and NHS partners.
Prof Jonathan Sandy, lead researcher for the Bristol gene bank, said: "Children born with cleft often face unique challenges. These include speech and language issues, educational difficulties and broader health concerns.
"We do not know if these problems are caused by the genes that may be responsible for cleft or by other factors, such as lifestyle or 'environmental' factors. This study will help answer these important questions and could also solve the ultimate mystery of what causes cleft in the first place."
The experts will also look at what practical and emotional support these families might need.
Prof Nichola Rumsey of Bristol's University of the West of England, said: "When parents have a baby with a cleft, typically one of their first questions is 'Why has this happened to us?' They also want to know whether their baby will be OK as they grow up.
"Our focus will be to gather psychological data from parents on their experience of diagnosis and the early issues of parenting a child with a cleft and their support needs."