MSF website encourages doctors and TB patients to blog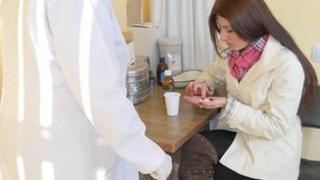 Health is a popular subject on the blogosphere, allowing patients to share their hopes and fears. One website, set up by the medical aid organisation Medecins Sans Frontieres, allows TB patients and doctors to write about an illness that some still regard as taboo. Two bloggers talk to the BBC News website about why they blog on health matters.
"The room fits three small beds placed in a U-shape and he shares it with his mother and another boy with tuberculosis. I am just in time to see him; his mother has just rolled the carpet, suggesting the Friday prayer has ended.
"The wind is unusually rough today and the closed windows are stained with the prints of the fallen autumn leaves. The air is still and inescapable, ideal for infection and a threat to all those who enter."
So begins a doctor's blog about his patient - seven-year-old "Rafiq", who lives in Tajikistan. Dr Kartik Chandaria of MSF usesbloggingas a way to collect his thoughts and speak up for his patients in a country where TB rates are rising every year and the health system struggles to cope.
Dr Chandaria, who is setting up paediatric clinics for children diagnosed with TB, says many are overlooked by the health system. He faces many challenges, from countering myths about TB to persuading his young patients to take five or six medicines a day and to stay in the clinic for up to two years.
Blogging helps him to be both an advocate for the children and their families, and to write things down for his own sake, he says.
"For me it was about trying to sit down and write some of the difficult and positive things about this particular environment," he explains.
"It's a very rich environment to be in - the language and culture is wonderful. Blogging helps me to collect my thoughts and write it down. It's helped me to clarify the difficulties we have in an environment like this and to discuss it with my bosses and other members of the team."
'Not a fairytale'
Another blogger who writes on TB is Mariam Dayvtan, a 21-year-old psychology student from Yerevan, Armenia. She started a blog when she was diagnosed with multi-drug resistant TB, and intends to stop when she comes to the end of her treatment regime.
"All the feelings that the patients may have, I have already had. I think that by making my example visible, I can make people enthusiastic and can show that it is possible to be cured fully and it is not a fairytale. If my story helps at least one patient, I will consider myself a winner."
When she was diagnosed, she had no idea of what treatment entailed. She was scared, and once even stopped taking her medication. At times it was very difficult to write about her experiences, because every time it took her back to a period when she felt like she "was in hell". After the lows, she is now on a high; she is close to completing her treatment and says everything is fine.
"I am happy about that fact and I want to pass on my happiness to others through the blog. Like TB, I think happiness also can be 'contagious'."
But she says she will remember writing the blog, and the insight, reflection and inspiration it gave her all her life.
"When I finish my treatment, I will also finish my blog and I will feel satisfied and happy. I will feel like a winner. "
Back in Tajikistan, Dr Chandaria's blog does not have a happy ending.
He writes of how Rafiq's strength simply faded away one morning, and of his feelings of sadness and guilt.
"For a few days, the name Rafiq continued to slip out, but we are distracted by the 'new' patient, the 'interesting' patient, and slowly Rafiq has faded away, though in moments of silence, he appears with his mother, shy and teaching me how to count to 20 in Tajik."