Seven-day consultant cover 'best'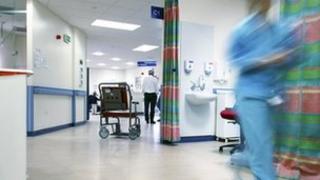 Senior doctors should be in hospitals for at least 12 hours a day, seven days a week, a leading medical college has said.
The Royal College of Physicians surveyed 101 hospitals in England and looked at consultant cover and death rates.
It found those with most consistent consultant cover had lower death rates.
An RCP spokesman said the work showed traditional rotas were "not safe for patients or good for clinicians".
The analysis cover 91 trusts running 101 hospitals and 1.3 million adult acute medical admissions. There are 164 trusts in England.
It found patients have better outcomes and are less likely to be re-admitted to hospital if cared for on wards where the physicians practise acute medical care, if there are consultants on call for more than one day at a time and if they have no other routine duties during that time.
Carrying out two or more ward rounds per day in the acute medical unit - and being there for more than four hours seven days a week (as was seen in 62% of hospitals) also cut fatality and readmission rates.
But the college recommends consultants be present for 12 hours a day so that they have adequate time to properly evaluate the patients - which they suggest four hours does not offer.
'Older sicker'
Dr Kevin Stewart, director of the RCP's clinical effectiveness and evaluation unit said: "The profile of acute medical patients has changed dramatically over the past 20 years, yet in some hospitals changes in consultant working patterns have been much slower.
"Traditional rotas are neither safe for patients, nor good for clinicians.
"Now, patients are older, sicker and have more complex conditions, and they require dedicated consultants to be available on site seven days per week for at least 12 hours a day."
Dr Simon Conroy, of the British Geriatrics Society, said: "We welcome the findings of the report, which emphasises the importance of getting frail older people seen at the earliest possible opportunity in their admission to maximise outcomes."
And Dr Chris Roseveare, president of the Society for Acute Medicine, said: "This study represents a really important step forward in the management of patients admitted as medical emergencies.
"For the first time, specific patterns of consultant working on the acute medical unit have been shown to be associated with improved patient outcomes; hospitals now have a fantastic opportunity to identify the number of acute medicine consultants required."
Bruce Keogh, the NHS Medical Director, said: "I welcome this research and guidance from the RCP, which will help the NHS provide better services, seven days a week."