How drama can communicate complicated science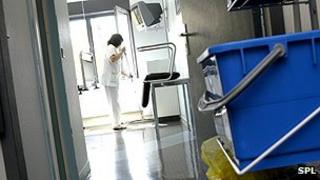 Casualty, Holby City, ER, Doc Martin. It is inconceivable that we haven't all, at some point, watched a medical drama on television.
Their popularity means viewers undoubtedly know more about gory kitchen injuries than they ever wanted to.
But when it comes to complicated medical concepts, which are difficult to explain, does drama still work?
A short drama created by the Society for General Microbiologyto challenge misconceptions about MRSA screening was performed at their conference in Dublin this week.
It features two hospital cleaners, Lizzy and Carla, in a dialogue about MRSA.
Their conversation centres on Carla's mother who has told she must be screened for the infection before a hip replacement operation.
The drama was first performed at the Cheltenham Science Festival in 2010 and continues to be relevant to audiences made up of the general public.
The society is now planning to take the drama into schools and perhaps even on tour around the country.
Engage audiences
Dariel Burdass, head of communications at the SGM, came up with the idea of the play.
"We wanted to put together a realistic case scenario because of misconceptions about what antibiotics do and prescreening for MRSA.
"We knew drama was a great way to engage audiences and explain difficult concepts.
"I wanted it to be like Casualty, at first. But in the end we did it on a small budget, with few props and just a couple of actors."
The drama explains that MRSA is an infection which lives on the skin and is spread via person to person contact, unlike flu and other infections.
As a result, all hospitals now screen patients before admission, including emergency admissions, to try to identify who is already carrying it.
The test for MRSA is not a big deal, the drama explains. It amounts to a swab of the patient's nose, armpit or sometimes the groin and the results come back in a couple of days.
Hotbeds
When Carla's mum is put on a ward which contains a patient being isolated because of an MRSA infection, her anxieties increase.
The reason hospitals seem to be hotbeds for resistant MRSA is because with many vulnerable patients, infections are common and easily spread.
The drama goes on to explain why good hand hygiene, thorough cleaning of wards and 'barrier' nursing, which means nurses wearing aprons and gloves when dealing with infected patients, all help to ensure that the infection is contained.
Prof Sharon Peacock, a clinical microbiologist at the University of Cambridge, says a combination of all these, plus screening of all hospital admissions "has led to a huge decrease in rates of MRSA".
To respond to the Department of Health's recent plan to reduce infections further is not going to be easy, she says.
"There aren't any more tricks in the box. We can do audits to see if people are doing what they say they are doing in hospitals.
"And genomics may have an important role to play in the future. At the moment we can't tell the difference between one strain of MRSA and another, so we don't know how it's moving around."
'Fascinating'
One of the jobs of The Wellcome Trust, which funds biomedical research, is to engage the public on issues of science.
They have invested heavily in drama to convey the excitement of scientific subjects.
And like the Society of General Microbiology, they believe it's a very powerful way of getting content to audiences who would not normally watch science programmes.
Dr Daniel Glaser, head of special project at the Wellcome Trust, says science is often presented in an inaccessible way.
"I have never found a thing that can't be communicated in a simple, dramatic sort of way.
"The everyday business of scientific research in the lab is fascinating."
A film funded by The Wellcome Trust, Love At First Sight, was long-listed for an Oscar in the short film category this year.
"It is a surprising story about forgetting which will make you curious about memory and aging.
"It leaves you with a curiosity which all scientists feel and will prompt you to try to understand a little more about what science is," Dr Glaser says.
Whether the topic is microbiology or memory-loss, drama may well be the answer to spreading the word.