Surgeons told to avoid hip implant with high fail rate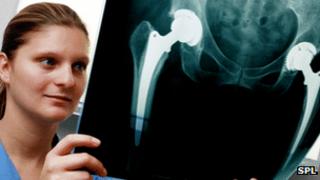 Surgeons have been warned to stop using a particular type of metal-on-metal hip implant because it has an "unacceptably" high failure rate.
The UK health regulator, the MHRA, said after four years, over 10 percent of the implants needed to be replaced.
An estimated 270 patients in England and Wales have had them fitted.
Surgeons are being advised to closely monitor all affected patients. The implants are no longer being manufactured or distributed.
Hip implants are made up of an artificial cup and head, replacing the original hip joint. They can be made entirely of metal, of ceramic, or of a combination of metal and plastic.
The implants in question are a particular combination of metal cup and head, with the brand names Mitch TRC and Accolade.
High failure rate
Surgeons are being advised to stop using them because the National Joint Registry for England and Wales shows a revision rate of 10.7% after four years of implantation, much higher than average.
The advice follows a recent study warning that metal-on-metal total hip replacements fail more frequently than other options.
The Medicines and Healthcare Products Regulatory Agency has already recommended annual checks for people with large head metal-on-metal implants.
It is thought tiny pieces of metal break off implants and leak into the blood. This might cause muscle and bone damage as well as neurological issues.
'Unacceptable' failure
The clinical director of the MHRA, Dr Susanne Ludgate, said the revision rate for this particular combination of hip implant was unacceptably high.
"That is why we have advised surgeons to stop using this combination and to monitor their patients closely," she said.
"We have previously taken prompt action in February to investigate safety concerns and provided advice on patient management to relevant healthcare professionals."