Appendicitis: Antibiotics may be better than surgery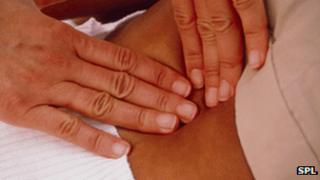 Antibiotics may be a better alternative to surgery for treating appendicitis, according to doctors at the Queen's Medical Centre in Nottingham.
Infected and inflamed appendixes are removed before they burst and cause a potentially deadly infection.
The doctors' analysis of previous researchpublished on the BMJ websiteconcluded that giving antibiotics was an "effective and safe" alternative.
Other doctors cautioned that drug treatment risked the illness returning.
About seven out of every 100 people in the UK will get appendicitis during their lifetime. As a result, removing the organ is one of the most common operations performed by the NHS in the UK.
Alternative?
The team in Nottingham analysed data from four trials of antibiotics in a total of 900 patients with appendicitis.
After one year, treatment with antibiotics meant nearly two-thirds of patients did not need surgery.
Prof Dileep Lobo told the BBC: "We need to consider treating with antibiotics as a significant number will get better."
He said there was also a reduction in complications such as wound infection in antibiotic treatment compared with surgery.
He says the treatment would be only for patients with "uncomplicated appendicitis" - those with an inflamed appendix, but no other symptoms such as perforation, gangrene or pus. Other patients would still have the organ removed.
However, 68 patients treated with antibiotics had to return to hospital as their appendicitis returned within a year.
Dr Olaf Bakker, from the University Medical Center Utrecht, in the Netherlands, said: "The use of antibiotics as first line treatment for appendicitis has major disadvantages.
"The current meta-analysis found a 20% chance of recurrence of appendicitis after conservative treatment within one year. Of these recurrences, 20% of patients presented with a perforated or gangrenous appendicitis.
"It is questionable whether a failure rate of 20% within one year is acceptable."
He called for "more convincing" longer term studies to be published. Prof Lobo agreed, saying there were issues about longer term recurrence of appendicitis and a risk to women's fertility, already associated with the illness, when treating with antibiotics.