Minimum alcohol pricing could cause fake booze surge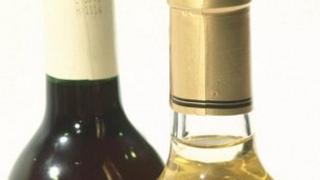 Introducing a minimum price on alcohol could cause a surge in counterfeit wine and spirits, the Local Government Association is warning.
It fears people will turn to cheap fake brands of alcohol which can contain dangerous chemicals like anti-freeze if the government's proposal goes ahead.
The plan suggests a 40p minimum price per alcohol unit in England and Wales.
Experts from the Health Select Committee say the lever of price can change behaviour.
In response to concern over whether minimum pricing will encourage responsible drinking, Sir Ian Gilmore told the committee: "We would like to change the culture of drinking, but, price changes culture."
It is one of the many proposals in the new alcohol strategy designed to encourage responsible drinking and help local areas tackle alcohol-related problems.
The strategy for England and Wales, which was launched last month, also includes a plan for a late-night levy to make clubs and pubs help pay for policing.
Similar plans on minimum pricing are already being considered by Scottish Parliament which will be introduced by the summer.
The Northern Ireland Assembly is considering charging 45-50 pence per unit of alcohol to be implemented in 2013.
But public health experts are concerned about the possible impacts of such a strategy.
Bogus brands
Councillor David Rogers, chairman of the Local Government Association Community Wellbeing Board, said: "National gestures like minimum pricing and banning multi-buy discounts will only go as far as deterring binge drinking and don't take into account varying issues of town and city centres across the country.
"We are concerned that targeting cheap alcohol could push people to the black market and cheaper drinks. When drinking counterfeit brands you can never be sure what you are putting into your body.
"People who think they are getting a bargain could end up making themselves blind or even drinking themselves to death."
Bogus brands have been found to contain industrial cleaning chemicals like isopropanol, and chloroform used in pesticides.
Recently a shopkeeper was fined £16,000 after Surrey County Council Trading Standards seized fake Glen's Vodka which, when tested, contained 235 times more methanol than the legal limit. Just five teaspoons of methanol can be fatal.