'My girlfriend found my cancer'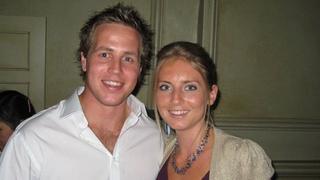 When William Gingell went to see his GP after finding a lump on one of his testicles, it was his girlfriend Lucy who had encouraged him to go.
"I wasn't too bothered really. It's the male nature I guess. We don't like to admit to these things and it's a bit of a personal area."
William, from Devon, may have been in denial, but his girlfriend persuaded him to go back again when the first doctor told him it was nothing to worry about.
The second appointment, this time with a female GP, resulted in a test and a diagnosis of testicular cancer.
William was just 17 years old and was in his first year at university.
"It was a bit of a shock, to be honest. Probably more to my family and friends than me.
"I didn't get depressed. I just wanted to know how to get rid of it and get over it."
Pea-sized
William's experience is not unusual. Testicular cancer is the most common cancer in men aged between 15 and 45 years with just over 2,000 new cases a year.
A lump or change in the testicle is the most likely way this cancer can first be identified.
The lump can be as small as a pea, or much larger, and it is not usually painful.
If caught at an early stage, then the probability of a successful cure is more than 98%.
Even in the later stages of the disease, 90% of men will make a full recovery.
In fact, Cancer Research UK statistics show that the outlook for testicular cancer is one of the best for all cancers .
Yet, research carried out by male cancer charity Orchid says that more than a third of men wait for at least a few weeks before going to see their GP about a suspect lump - and many wait much longer.
This lack of communication and inability to seek help is potentially putting men's lives at risk, the charity says.
Be proactive
Rebecca Porta, chief executive of Orchid said it can be a challenge to get men to take their health seriously.
"We all have a role to play in working together to fight male cancer whether it's to encourage self-checks or to seek medical advice and information.
"We're calling on all friends and team mates as well as close family and partners to be proactive in encouraging the man in their lives - their husband, father, son, brother - to be more male cancer aware."
William says that no one living in the house he shared at university was aware of testicular cancer.
"They were quite naive. No one was aware of checking or self-checking or what to do next."
Orchid also found that a testicular cancer diagnosis can leave many men feeling anxious and depressed and unable to socialise.
All clear
In a recent survey by the charity, 86% said their confidence and performance at work suffered as a result of their diagnosis and nearly 70% were worried about how their diagnosis would affect their relationship and sex life.
William had an ultrasound scan soon after his diagnosis and then the lump was removed just a few days later.
He did not need any further treatment, such as radiotherapy, because the cancer was at a very early stage.
Now 26 years old and engaged to Lucy, with their wedding planned for September, William is all clear of the cancer.
He had his last check-up in February and has had many regular checks over the intervening years.
"I was never really embarrassed about it at all - and I'm certainly not now."