'Inadequate' NHS diabetes care causing patients 'harm'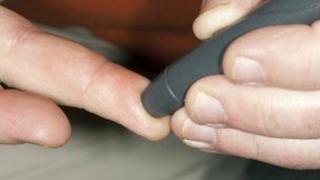 NHS diabetes care is 'inadequate' and some patients come to further harm due to poor care in hospital, a leading specialist says.
Dr Gerry Rayman, national clinical lead for inpatient diabetes, warned many hospitals had no specialist diabetes nurse.
He said many hospital patients had diabetes, and called the situation 'quite alarming'.
The Department of Health said work was under way to improve care standards.
Speaking on BBC Radio 4's You and Yours, Dr Rayman, head of the diabetes service at Ipswich Hospital NHS Trust, said: "We know that one in three hospitals don't have a specialist diabetes nurse, which is really quite alarming when we know that one in six people in hospital have diabetes.
"Unfortunately, many people in hospital with diabetes do come to harm as a result of, I'm afraid to say, inadequate care in hospital."
Diabetes accounts for 11% of all NHS inpatient expenditure, and costs the service around £23.7bn last year, a figure projected to increase to just under £40bn by 2035.
Two types
In Type 2 diabetes, not enough insulin is produced or the insulin that is made by the body does not work properly.
It tends to affect people as they get older and usually appears after the age of 40, but increasingly is seen in younger, overweight people. It accounts for 90% of all cases.
Type 1 diabetes, a condition which usually means insulin cannot be produced at all, is responsible for the other 10%.
Adrian Sanders, chair of the all-party parliamentary group for diabetes, claimed there was plenty of evidence out there to support Dr Rayman's assessment.
He said the government was aware that a disproportionate number of people occupying hospital beds have diabetes, and their hospital stays are longer.
He said the government - and the last Labour administration - had encouraged more support for people with diabetes in primary care.
"That's actually a very good policy for people whose condition doesn't present complications or specialisms. And that's why you need specialist care for those who present with specialist problems."
Barbara Young, chief executive at Diabetes UK, said diabetes was a serious condition which could lead to devastating long term complications including blindness, kidney failure and amputations.
She said: "The tragedy is that for many people with diabetes, complications could have been avoided if the health checks were in place to spot any signs and if the appropriate care and treatment were applied.
"For example, up to 80% of amputation cases due to diabetes could be avoided if problems are identified early enough and treated appropriately."
Personal responsibility
A key area of contention is whether diabetes is an issue for social or personal responsibility, with some arguing for tougher regulation of the food industry, whilst others argue healthy diet is strictly a matter for the individual.
Last week a ten-minute rule bill was introduced in the House of Commons by Keith Vaz arguing for the reduction of sugar content in soft drinks by 4%.
However, Paul McArdle, of the British Dietetic Association, cautioned against putting too much emphasis on sugar in food.
He said: "Food labelled 'suitable for diabetics' comes from the misguided principal that everything for people with diabetes is about sugar.
"The main focus for this group is losing weight and having a healthy diet, as this helps people with diabetes manage the condition.
"Around 60-90% of type two diabetes is caused by people being overweight, with more than half of that being preventable by having a healthy lifestyle.
"The bigger issue is good food labelling which can enable consumers of food to make healthy choices."
Audit for improvement
The Department of Health issued a statement which accepted that good diabetes care was very important in hospital - and elsewhere.
"That is why the National Diabetes Inpatient Audit reviews diabetes management in hospital each year and feeds results back to individual hospitals to take appropriate action.
"NHS Diabetes is working with clinicians through their Inpatient Network to improve care.
"The Audit has already shown some improvements in care but more needs to be done."