Care costs could close libraries, say councils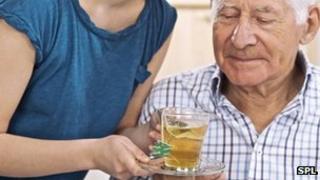 A crisis in funding care for the elderly could lead to the closure of parks, libraries and public toilets, according to council leaders in England and Wales.
The Local Government Association has warned that funds will have to be diverted to "plug the gap in care funding".
It said an agreement was needed on how to pay for elderly care.
The LGA said it was "absolutely united" on the issue.
In 2011, an independent review recommended a cap of £35,000 on the amount people would have to pay for social care.
Council-funded home help and care home places are currently offered only to those with less than £23,250 of assets. The review said that threshold should rise to £100,000.
The report by Andrew Dilnot said those changes would cost at least an extra £1.7bn a year and would rise as more people retired.
The LGA, which represents around 400 councils, sent a letter to David Cameron, Nick Clegg and Ed Miliband.
'Over-stretched'
It stated the Dilnot recommendations were the "only real solution" to funding care and urged the leaders of the three main parties to be "courageous" and commit to reform.
It said: "For too long we have toyed with adult social care reform and failure to act now may be the failure that tips the system over."
The letter argues the care system is "already over-stretched" and that inaction "will increasingly limit the availability of valuable local discretionary services as resources are drawn away to plug the gap in care funding".
The LGA's chairman Sir Merrick Cockell told the BBC: "It's unusual for local government to be able to absolutely be united and from our side of public services we're saying 'we have a common view and we really want to work with the national government on actually delivering that'.
"But we need some certainty and we think that the population of the country needs a simpler system, where they know what their liabilities are going to be, some certainty and that we join up the health and the adult care systems at a local level."
The care services minister Paul Burstow said: "We absolutely agree that the social care system is in urgent need of reform and we are working with a wide range of interested parties - including the LGA - to create a sustainable system that ensures people and their carers get the quality care that they want.
"We will publish our white paper on care and support shortly and are working hard to secure cross-party agreement to find a sustainable long-term solution on social care funding."