Third of asthmatics risk a fatal attack, study suggests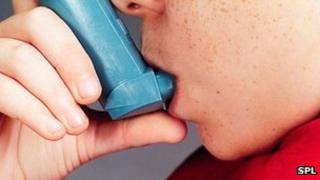 A third of people with asthma are at a high risk of having a potentially fatal asthma attack, research suggests.
The findings come from an online test launched a few months ago by Asthma UK to help those with asthma gauge how serious their condition is.
Nearly 25,000 people took the Triple A (Avoid Asthma Attacks) test , which asks simple questions about factors known to be linked to worsening disease.
Before taking the test, less than half recognised that they might be at risk.
The charity believes most asthma-related emergencies are avoidable.
It estimates that up to 75% of emergency hospital admissions would be preventable with better disease management.
But the latest findings suggest that people with asthma are considerably underestimating their risk of having an attack.
Traffic light coding
Over half of respondents (55%) did not think they were at increased risk. Yet the Triple A test results suggested 93% were at increased or highly increased risk.
Asthma kills three people every day, and every seven minutes someone in the UK is admitted to hospital with a potentially fatal asthma attack, according to Asthma UK.
Those taking the test will fall into one of three categories, colour-coded like traffic lights.
The red category means the person runs a highly increased risk of a serious attack, while green would mean no increased risk.
In between, there is an amber category which is accompanied by advice that the person being tested is at an increased risk of an attack - and advises him or her to have a review with a GP or asthma nurse.
Each category is linked to advice on how to control the symptoms and what to do if someone does have an attack.
And the test stresses that everyone's asthma is different and symptoms can come and go, which means there is no way to entirely rule out any risk of an attack.
People who have attended A&E or been admitted overnight to hospital for their asthma in the past six months tend to be at increased risk of a serious attack.
Similarly, those who rely on using their reliever (blue) inhaler five times a day or more or have needed a course of steroid tablets for their asthma in the past six months are also at increased risk.
Neil Churchill of Asthma UK said: "It's extremely worrying that many people with asthma do not realise their own risk of ending up in hospital.
"As up to 75% of emergency hospital admissions are preventable with better management and support it's vitally important people understand their asthma and crucial that they are supported by healthcare professionals who can help them to reduce their risk."