Hospital discharge delays 'continue to rise'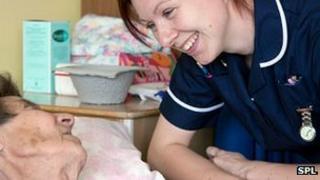 The number of delays in discharging patients in England and Wales who are ready to leave hospital is continuing to increase, official figures show.
The problem - known as bed-blocking - happens when support from social care or district nursing is not available in the community for vulnerable patients.
Department of Health data shows that during March over 71,000 days were lost because of delays.
The figure represents a rise of 7.5% compared with the same month last year.
Bed-blocking was seen as a major problem at the start of the century.
Breakdowns in communication
But it started falling after ministers took action to encourage the NHS and local government to start working together to tackle the issue.
The delays are often caused by breakdowns in communication between the two sectors.
Vulnerable patients - mainly the elderly - often need support in place when they are ready to leave hospital.
This normally includes a mix of NHS nursing and social care.
The reverse in the downward trend seems to have begun about two years ago, although it was only last autumn that the picture became clear.
Figures obtained by the BBC showed that the number of delays had risen by about 10% in the preceding 12 months.
These latest statistics, released by the Department of Health, suggest that the rise is continuing - with a consequent financial impact on the system.
The cost to the NHS of keeping a patient in hospital when they are ready to be released is estimated at £260 a day.
That means the delays in March would have cost about £18.5m.
Liz Kendall, Labour's shadow minister for care and older people, said the rises were a result of the government's cuts to services.
"Every day thousands of older people are stuck in hospital... This isn't what they or their families want and it's not what hard-pressed taxpayers need either, because hospital care is far more expensive.
"The government is out of touch with what's really happening on the ground and in denial about the true scale of the crisis."
Health minister Simon Burns said money was being targeted at tackling delayed discharges.
He added: "No one should stay in hospital longer than they need to. We are committed to minimising delayed discharges."