The boy, 11, who battled cancer twice in one year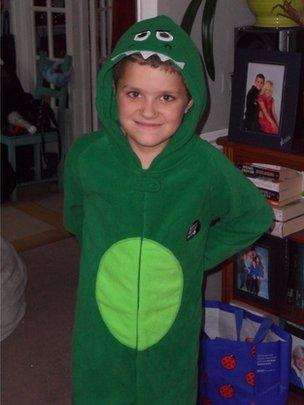 Rhys Watkins is just 11 years old but he has been forced to battle cancer twice in little over a year.
His latest operation, in the week before Christmas, was to remove a very aggressive, tennis ball-sized tumour from his lung.
His family were not expecting him home in time for Christmas Day. However, he underwent a special operation - rarely performed on children - which meant he was able to be back at his home in Seaford, East Sussex, to surprise his sisters just three days after having half of his left lung removed at the Royal Brompton Hospital in London.
Rhys was born with a form of neurofibromatosis, NF1. The Neuro Foundation says one baby is born each day in the UK with this genetic disease.
It causes benign tumours in the nervous system and coffee coloured "café au lait spots" to form on the skin.
Rhys was diagnosed when he was seven. His right leg was growing longer than his left and in May 2010 he had an operation to remove 2.5 inches of leg.
However, he then developed a lump at the top of his leg.
His father, Trevor, said: "Initially we thought that it was just a muscle knot because his muscles were all 2.5 inches too long, but it didn't seem to be going and if anything seemed to be getting a little bit bigger."
Not all tumours that develop with NF1 are benign - some are cancerous. Rhys had developed a cancer in the nerves of his right leg, which was growing quickly and affected his ability to walk and feel anything in that limb.
It had grown to the size of a grapefruit by the time it was removed. To try to stop the cancer spreading, 10 centimetres of nerve was removed - causing permanent disability below the right knee.
Trevor said it was a dreadful moment for the family and for Rhys, who had always loved playing sport.
"To tell your kid that he's going in for an operation and has got cancer was horrible anyway. To have to tell him that it would permanently affect his mobility was very hard.
"His attitude then was 'well, at least I can play other things like golf, and cricket maybe, and archery'. It's an incredible attitude, really. He's carried that on... in everything he's faced."
Six months of chemotherapy and radiotherapy followed. However, a routine X-ray last October showed that the tumour had spread to his lung.
"He threw up instantly and had a panic. He said 'am I gonna die?, am I gonna die? Am I gonna have to have chemotherapy again? I don't want to have chemotherapy again'."
He was back in hospital the week before Christmas.
Simon Jordan, a consultant thoracic surgeon at the Royal Brompton Hospital, said the tumour was small when it was first picked up but "it rapidly grew and by the time we did the operation it was six centimetres in size".
"It was starting to take over the whole of the bottom lobe of the lung."
The bottom half of the lung needed to be removed. Mr Jordan used a technique which is rarely used on children - video-assisted thoracoscopic surgery, a form of keyhole surgery.
It is used in more than one in 10 cases of lung cancer in adults and avoids the need to open up the chest and spread the ribs apart for an operation.
Mr Jordan said: "More and more we are impressed by the speed of recovery and how much better the recovery can be.
"The timing was lovely in the case of Rhys. Because of his quick recovery he actually went home on the day before Christmas Eve, whereas traditionally we'd have expected him in for at least another three to four days after that."
The Watkins family had actually prepared for opening presents later.
"We didn't think we would be [back for Christmas]," Rhys's father, Trevor, said. "On the Thursday he was up and walking round and wanted to go. It was much earlier than anyone thought."
He is still being checked regularly in case the cancer returns.
His father said: "I don't think we're out of the woodwork yet. I'm not sure we won't have to go through those sorts of feelings again, possibly worse. That's the sort of path we're on.
"It's not a death sentence by any shape of form, but it is a very, very aggressive cancer.
"If we're lucky there's a chance we can get through it and if anyone can he can."