University launches new cosmetic surgery degree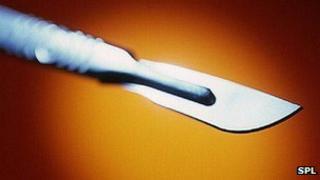 A UK University is launching a new degree course for surgeons with the aim of improving the safety of cosmetic procedures like facelifts.
Anglia Ruskin University says it hopes the qualification will put an end to "have-a-go surgeons" and deter Brits from traveling abroad for surgery.
But plastic surgeons say the new MSc course is an unnecessary addition.
All UK-qualified plastic surgeons complete Royal College of Surgeons-approved training to do NHS work.
But Professor James Frame, a surgeon at the university who will help run the new "hands-on" practice-based plastic surgery course, says some newly qualified plastic surgeons still lack expertise.
Although surgeons are trained and experienced in carrying out reconstructive work - like repairing the face of a burns patient, for example - Prof Frame says some do not have enough experience to carry out cosmetic work, such as breast augmentation or "boob jobs".
This is because cosmetic surgery is typically carried out in private practice rather than on the NHS.
Super-speciality
Professor Frame said: "Aesthetic plastic surgery is a rapidly enlarging super-speciality that requires recognition in its own right.
"At present a newly qualified, fully-accredited plastic surgeon is released, totally lacking any experience in aesthetic plastic surgery, and is able to operate in the private sector.
"Many surgeons complete their training and, unable to find work in the NHS, have no option but to turn to private groups without that experience.
"There are many competent surgeons but at present there are too many under-qualified surgeons, particularly from elsewhere in the EU, coming over here and operating."
The course, which begins in September 2012, is open to all accredited plastic surgeons based in the UK. And overseas plastic surgeons will be able to apply to study for the MSc from 2013.
Disingenuous
Professor Frame said the recent PIP breast implant scandal - which led to 600 women having potentially faulty implants removed - highlighted the need for improved care.
"If aesthetic surgery is recognised as a speciality, with its own qualification, then clearly the public will benefit because it will help them to easily identify and employ a qualified surgeon here in the UK," he said.
But the president of the British Association of Aesthetic Plastic Surgeons (BAAPS), Fazel Fatah, said it was disingenuous to claim that plastic surgeons in the UK receive no training in aesthetic surgery in the NHS.
"Aesthetic surgery is part of most up-to-date plastic surgery syllabus which has been approved by the General Medical Council - every trainee is taught the basic principles of aesthetic surgery as part of their education and they must undergo a thorough examination to attain the final FRCS (Plast) qualification.
"Precisely for the purpose of further enhancing direct experience, the BAAPS has established a number of Fellowships for those who complete their training and wish to practice aesthetic surgery. The addition of an MSc may be desirable for some but is certainly not necessary for fully qualified plastic surgeons."
A spokesperson for the Royal College of Surgeons said: "Surgeons go through extremely rigorous training - it takes around 17 years training to become a consultant - and they continue their professional training in a range of settings and training providers throughout their surgical life to learn new techniques and to further specialise and offer the best care for patients."
According to BAAPS, 43,069 procedures were carried out in the UK last year, an increase of 5.8% on 2010. Breast augmentation and reduction, rhinoplasty, neck and face lifts, and eyelid surgery were the most popular cosmetic procedures in 2011.