Leonardo: the artist as anatomist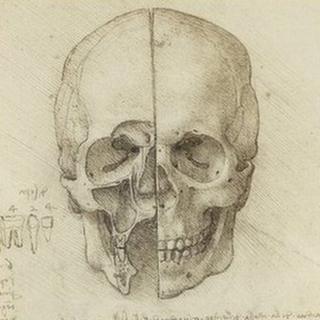 This was not like any display of anatomy I'd ever witnessed. Nearly 90 exquisite pen and ink drawings by Leonardo da Vinci.
They are about to go on display at the Queen's Gallery, Buckingham Palace.
They reveal many aspects of Leonardo's genius. Of course there is his extraordinary artistic skill. How many drawings of a dissected body could be regarded as works of artistic beauty?
His knowledge of architecture and engineering encouraged him to present the body from every angle - plan and elevation - layer upon layer.
Several of the drawings remind me of MRI scans - a succession of images which reveal the body in all its three-dimensional complexity.
We are fortunate that all but one of Leonardo's studies of the human body are in the Royal Collection. No-one is entirely sure how they got there, only that they were in royal hands in London in 1690, bound in a single volume.
Martin Clayton, the exhibition curator, says they were probably bought or given to Charles II some years earlier. Their usual home is at Windsor Castle.
If you missed my report on the Six O'Clock TV news, you can watch it below. The second bit of video is Martin Clayton showing me a few of his favourites from the exhibition.
Leonardo da Vinci: Anatomist, the Queen's Gallery Buckingham Palace 4 May - 7 October.