Put defibrillators in public places, say Oliver King's parents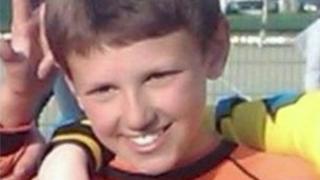 More heart defibrillators in public places could save dozens of lives each year, according to campaigners.
The parents of Oliver King who died of heart failure during a school swimming lesson in Liverpool want to see defibrillators in all public buildings.
They say that more than a dozen young people die each week from undiagnosed heart problems.
An e-petition has been launched to try to force Parliament to discuss the issue.
The call for more defibrillators comes after the Bolton player Fabrice Muamba - who himself nearly died during a match - returned to his club on Wednesday, where he stepped out on to the pitch to a warm welcome.
His life was saved after he received prompt treatment on the pitch, including the use of the defibrillator at the Tottenham ground where he collapsed during an away match.
Now Mark King, the father of 12-year-old Oliver, says the lifesaving machines must be made more widely available, to spare other families the pain they have gone through.
"Losing Oliver has driven us along because of the heartbreak that we're suffering.
"We can't stand by and read every day that children are dying. It's just total devastation for the families and friends. We can't let it go on."
The issue of heart failure in seemingly fit young people has received extra attention since the dramatic collapse of Fabrice Muamba during an FA Cup quarter final in March.
But as the tragic death of Oliver King shows, it's not just elite sportsmen who can suffer from potentially fatal undiagnosed heart problems.
Late last month physiotherapist Ruth Bradley, who was at a game at Broughton Park Rugby Club in Manchester, had to race into action when 20-year-old Sammy Alkhalaf, a Manchester University rugby league player, collapsed on a neighbouring pitch.
She said: "One of their players was on the floor and looked like he was fitting, so I ran over and we had him in the recovery position and he was breathing.
"Then all of a sudden his breathing had stopped. I couldn't find a pulse so I took the decision to start CPR which was the hardest thing."
Sammy Alkhalaf survived, thanks to the prompt action of Ruth and her colleagues. But she says had a defibrillator been available his chances of survival would have been much higher.
"We're going to invest in a defibrillator after that - there's no way we couldn't," she said.
"Even at a level like this where no-one is paid - it's just a weekend team - everybody needs to have training of some level.
"You do need to make sure you have people present at all games who are able to administer CPR safely and effectively."
So now a campaign is building to have defibrillators available in many more public spaces - such as parks, swimming pools, offices and schools.
Campaigners believe that each week the lives of more than 12 young people are lost to unexpected heart attacks.
They argue that if defibrillators are available then hundreds of lives could be saved each year.