Courses help cancer survivors face the future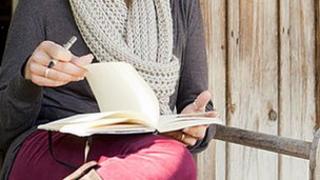 More and more people are surviving cancer in the UK due to improvements in treatment and diagnosis.
But surviving the disease is not the only hurdle to be overcome.
Many survivors struggle with long-term health problems caused by their treatment and others need psychological support to cope with the fear of the disease recurring, as well as problems with self-esteem and body image.
Last year the care services minister for England, Paul Burstow, pledged to help cancer survivors receive the support they need by working with Macmillan, the cancer charity.
With the help of researchers from Coventry University, they have designed a "self-help" course run by a combination of cancer survivors and cancer professionals which focuses on identifying the positives of life after treatment.
The Hope Course uses simple techniques like diary writing, setting weekly goals and relaxation activities to help a small group of 10 to 14 people overcome the physical and psychological effects of cancer.
'Floored'
Paula, 65, from Altrincham, completed one such course recently following her second cancer diagnosis.
She was treated for endometrial cancer in 2009 but discovered she had a very rare cancer of the trachea in August 2011 and needed a major operation.
"That completely floored me. I thought I'd seen my bout of cancer."
So when she found out about the course through her local Macmillan Centre, she felt she had nothing to lose by going along.
The course lasted for six weeks, with a group session lasting 2.5 hours each week.
"It really prepared me for the big operation - and I definitely wasn't as panicky as I was for the first operations.
"The surgeon said afterwards that I'd make a 'remarkable recovery' and I put that down to feeling more positive and more relaxed about it all."
Tutor mix
Lisa Cooper, self-management learning programmes co-ordinator at Macmilllan, says the mix of course tutors is part of the message.
"There is great value in the course being run by people who have had a cancer diagnosis themselves because they have been in that position," she says.
"Having health professionals tutoring helps a lot too because they can see more people at different stages of their treatment than they normally would."
These experts are also present to fill in the gaps in patients' knowledge.
"Half of my fear was the unknown really," Paula admits.
Talking about cancer with other people in the same situation was also very helpful.
"I realised that what you think is what everyone else thinks too.
"I was feeling sorry for myself, thinking 'why me', but I realised I wasn't on my own.
"It was enormously helpful. I've got a lot to be thankful for and with a bit of positive thinking I know I'm going to get through this and get over it."
Sign up
The Hope Course is a structured course which tackles particular issues which are important to people who have had cancer, like fatigue after chemotherapy, body image after surgery and the fear of their cancer returning.
"We don't exclude anyone," says Cooper.
"It's all about building confidence, bringing people together, managing their stress and anxiety and helping them face the future."
But sometimes the challenge is getting people to sign up to the courses.
"When people's confidence is low, it's difficult. But once they try it out you hear them saying, 'Why didn't I find out about this before?'"
Paula still keeps in touch with the people who attended her course and they regularly go for lunch together.
Andy Turner, a researcher at Coventry University who helped devise the Hope Course programme, says research shows that survivors report feeling better following the course.
"They really see the benefits. People say they are less negative, feel less pain and less fatigue and sleep better. They are more hopeful too."
"I've seen women turn up to the courses without their wigs because the tutors create a safe environment and their fears about body image reduce."
The success of the early courses means the scheme is to be rolled out across the UK through Macmillan.