Social care reform: No half-measures, campaigners urge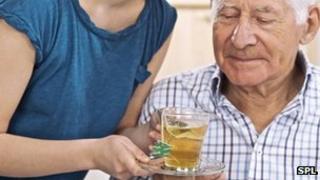 There must be no half-measures on the reform of social care in England, campaigners are warning, amid signs ministers are getting cold feet.
Eighty-five groups have written to David Cameron asking him to make urgent reform his "personal mission", and to host a summit to galvanise support.
A White Paper setting out new plans, including how care will be funded in the future, was due by Easter.
Ministers say it is now due to be released in the summer.
But fears are growing that even if the plans are set out in the coming weeks, they will fall short of the radical reform originally promised.
Behind the scenes officials are already talking about not addressing the trickiest question - paying for care - until the next Parliament.
The open letter - signed by leading charities and the Local Government Association - says that without radical change the elderly and disabled will be left living in "misery and fear".
'In crisis'
The letter - published in the Daily Mail - urges the prime minister to show "vision and courage", and make social care reform his "legacy to future generations."
It says: "Social care is in crisis - the system is chronically under-funded and in urgent need of reform.
"Without this, too many older and disabled people will be left in desperate circumstances: struggling on alone, living in misery and fear."
It goes on to say that "delay or half-measures" will not be tolerated.
And it adds: "We want disabled and older people and their families to be able to live without fear of what tomorrow might bring."
Teresa Quinn from Lincolnshire is a full-time carer for her mother Violet, who developed Parkinson's disease and dementia following a stroke.
She told the BBC the best thing for her mother was to be cared for at home, but that she was aware that there was intense pressure on the care system.
"A lot of care workers are really struggling.
"The [care workers] that are coming now come such a long way, and have to cram so many calls in.
"There's long distances, being a rural area - it's not just like in the city where you can go road-to-road or house-to-house, there's miles in between."
Radical reform
Michelle Mitchell, Age UK's charity director, has urged the government to invest in social care, and not kick the bill "into the long grass".
She says the average cost of care for an individual in the UK is £30,000 a year, but one in ten face an annual bill of £100,000.
"We are seeing increasing numbers of older people - because they're not getting the care at home that they need - going in to hospital earlier.
"What we are looking at is the government making investment in social care, backing radical reform - not just tinkering at the edges... radically reforming care to give people the opportunity to save for their retirement and prepare for their retirement," she added.
Helena Herklots, the chief executive of Carers UK and one of the signatories of the letter, said the organisations had come together as the next few months presented a "real opportunity" to get reform right.
But she warned without a push from the top of government, the risk was that the "political will" would not be there.