Local care 'close to break point'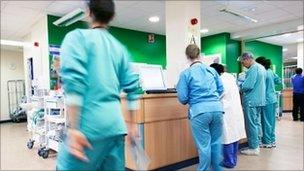 Health services in the community are reaching breaking point in the UK, the Royal College of Nursing is claiming.
The union said evidence from its members showed cuts to councils and hospitals were over-burdening nurses in the community.
The research was released as nurses meet for their annual conference which will be addressed by England's Health Secretary Andrew Lansley.
Ministers have said reforms to the NHS will improve services for patients.
RCN General Secretary Peter Carter said nurses were bound to "demonstrate their serious concerns" about the NHS in a Q&A session with Mr Lansley.
At last year's conference RCN members gave him a vote of no confidence.
The latest research was based on online feedback from nearly 2,700 nurses in the community including district nurses, those who work in GP practices and those who specialise in mental health.
Nine in 10 reported their caseloads had increased in the last year with some saying they were even having to fill in for council social care teams by making meals for patients and doing their shopping.
Ministers have talked about moving care away from hospitals and into the community so patients can get more appropriate services.
But the RCN said this was proving to be a "facade" as community services were "under-invested and over-burdened".
Many nurses claimed they were actually spending less time with individual patients because of the pressures being placed on them.
The union also released the latest data from its Frontline First campaign, which has been keeping track of job losses in the health service.
The figures, disputed by ministers, suggested more than 26,000 posts have gone in the last two years and predict another 34,000 are at risk over the next three years.
Mr Carter said: "Yet again and despite numerous warnings NHS organisations are making short-sighted cuts across the UK. Nurses are being stretched too thin and many are approaching breaking points."
Over the weekend the RCN also released a report claiming hospital patients were being treated in corridors and being left waiting for hours on trolleys because trusts were struggling to cope with demands.
Shadow Health Secretary Andy Burnham said the RCN findings were "worrying" and showed the NHS was "coming under attack from every possible angle".
Health Minister Simon Burns said he did not recognise the figures on job losses.
He added: "We are giving nurses in hospitals and in the community more time to care. We want to remove excessive paperwork and bureaucracy. This government believes in the NHS."
Related Internet Links
The BBC is not responsible for the content of external sites.