Labour asks nurses to help 'protect NHS values'
By Nick Triggle
Health correspondent, BBC News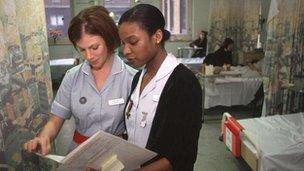 Labour is to encourage NHS staff and patients to gather information on how coalition policies are affecting front-line care.
The party has set up a website - NHS Check - for people to write in with their views.
The move comes as Labour leader Ed Miliband addresses the Royal College of Nursing (RCN) conference in Harrogate.
He told delegates that by working together they can help protect the NHS against "top-down re-organisation".
Mr Miliband said: "My party wants to work with NHS staff and patients everywhere to hold the government to account for what's going on."
He went on to tell nurses that resources were already being taken from the front-line by the government's policies, causing "disruption and fragmentation".
He promised there would be no more "top-down reorganisation" if Labour won power at the next election.
Instead, he said they would seek to put an end to the damage the changes were causing by repealing the "free-market free-for-all".
However, it is not yet clear how Labour would achieve this now the legislation has been passed by parliament.
Labour said through its NHS Check system it wanted to hear about the concerns people have on everything from staffing levels and the quality of care to how the government's reorganisation is panning out.
The move comes amid claims that cuts are beginning to affect front line services.
The RCN has released two studies during its annual conference highlighting the pressures being felt in hospitals and across community services.
They included evidence that community-based support, such as district nursing and mental health care, was being swamped, and reports of patients being treated in hospital corridors because there were not enough beds.
Health Secretary Andrew Lansley accepted times were difficult, but suggested there was too much focus on problems in the health service, when he addressed the conference on Monday.
Instead, he said it should "celebrate" its successes in areas such as improving access to dentistry, reducing hospital infections and tackling mixed-sex accommodation.
Related Internet Links
The BBC is not responsible for the content of external sites.