Lockerbie bomber Abdelbaset al-Megrahi dies: Your comments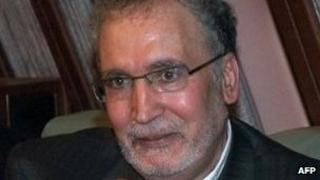 The man convicted of the Lockerbie bombing, Abdelbaset al-Megrahi, has died at his home in Libya.
He was freed from Scottish jail in 2009 on compassionate grounds because of cancer, stirring controversy when he outlived doctors' expectations.
BBC News website readers have been giving their reaction. Here is a selection of the comments.
YOUR COMMENTS
Just sorry that it took longer than expected. I hope the majority of the affected families feel some "closure" but suspect that there are further revelations to come. I was in the Scottish Ambulance Service at the time and attended the scene.
Bill Mason, Kirkcaldy
Very sad to hear this news and a great pity he did not see his name cleared in his own lifetime. His wrongful conviction is now a permanent stain on the reputation of the Scottish legal system.
Mark Hirst, Kelso, Scotland
I'm not losing any sleep over this monster's death. But the entire episode leaves me angry and full of contempt for the gutless and naive politicians in the UK who absurdly gave their assent to Megrahi's release from prison. This was a craven act. Gentleman, you have no honour. None.
John Belland, Boston, US
My thoughts today are not about the Libyan murderers, but the 270 innocent people who had their lives ended by them. I feel we will never know if suitable justice was found for them and their loved ones, but let them be at peace.
M McMahon, Rockport, Massachusetts, US
I am starting to believe, the more I read about the case, that Megrahi was wrongly convicted. I am also starting to believe that both the British and American authorities wanted someone - anyone - to be convicted and the trial and conviction of Megrahi was more politically motivated.
Sarah O'Brien, Livingston, UK
First of all, I would like to extend my sympathies to Mr Megrahi's family. Second, I hope that his death has given him some kind of release from the dreadful weight that he has had to carry since being convicted of the Lockerbie bombing. My belief is that he was wrongfully convicted. It is to the eternal shame of the Scottish justice system that the investigation and prosecution of the case appear to have been so riddled with mistakes, and so tainted by the withholding of crucial evidence and by political calculation.
James Robertson, Newtyle, Scotland
Megrahi had a fair trial and was found guilty of the Lockerbie disaster and I believe, rightly or wrongly, that he was guilty unlike some who don't believe he was the one who was responsible for the terrible tragedy when a total of 270 people died. It was a travesty of justice for the relatives of the victims of the disaster that he was released in 2009.
Margaret Skillicorn, Oldham, UK
I feel very sad for the relatives of those killed in this tragedy, and now also for the family of Mr Al-Megrahi. I was impressed by the decision of the Scottish Government to release him in 2009 and I wrote then to [Scottish Justice Secretary] Kenny MacAskill to say so. Whether what they did was right, I don't know, but compassion is always good route to follow.
Trevor Burch, Alton, Hampshire, UK
I still think freeing him was the right thing for the Scottish Government to do. It shows we are a better people. "love your enemies... do good to them that hate you." We can afford to take the moral high ground and rise above the posturing of the UK parties.
Helen Cobb, Aberdeenshire
He never should have been released from prison. I can still see those awful pictures of the aftermath of the bombing. He should have stayed here and died in prison.
C Phipps, Ware, UK
Whatever the end result, it should have happened while under incarceration. Our neighbors' son was one of the individuals he murdered. It is certainly not right that he was allowed to live his life in comfort and safety among his friends and family. None of his victims were afforded that luxury and he should not have been either. We are deeply disappointed that the Scottish government allowed such a travesty to occur. Scapegoat or not, he may have been tried and convicted but he was never appropriately punished for his crimes.
Tom & Mandy, Baltimore, Maryland
I agree with Dr Jim Swire whose daughter was a victim. Megrahi wasn't guilty. But will we ever find out the truth?
Mario, UK