Dental implants can cause nerve damage, warns study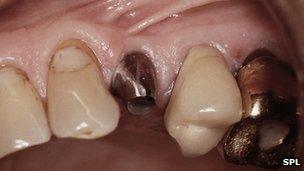 Dentists are not being vigilant when carrying out implant surgery and are failing to inform patients about the risks of nerve damage, a study in the British Dental Journal says.
Researchers from King's College London Dental Institute analysed 30 patients with nerve injuries and found problems with pain, speech, eating and kissing.
Around 1% of implant procedures carried out each year result in nerve injuries.
Dentists should improve care before and after implant surgery, the study says.
A dental implant is an artificial tooth root, which is screw or cylinder-shaped, that is placed into the jaw to hold a replacement tooth or bridge.
Dental implants are generally used if someone has lost a tooth or teeth due to disease or injury.
The type of nerve injury which can be caused by implant surgery has increased in recent years alongside a rise in implant surgery.
Approximately 10,000 lower jaw implant procedures are performed each year in the UK.
In 2007, 30% of all nerve injuries cause by dental work were associated with implants. This contrasts with 10% in 1997.
The King's College London research team found that these injuries could have a significant impact on people's quality of life.
More than half of the 30 patients participating in the research suffered constant pain or discomfort after surgery, with 40% complaining of numbness.
Thirty per cent of the implant injury patients reported psychological problems, including four who were diagnosed with depression.
Prof Tara Renton, lead study author from King's College London Dental Institute, said the way patients were treated before and after implant surgery was not good enough.
"It is vital that patients understand the risks of this type of surgery, and clinicians must improve their systems and procedures.
"In our study of a collection of implant patients with injuries we discovered that pre-operative consent, planning and follow-up after surgery was inadequate.
"Clinicians must be vigilant about potential nerve damage when carrying out these surgical procedures."
Of the 30 patients whose nerve injuries were analysed, only 11 were aware of signing consent forms before the implant surgery.
Eight of those patients felt they were not warned about nerve injury.
Seventy per cent of the 30 patients were referred to a specialist nerve injury clinic more than six months after surgery, despite evidence showing that removing implants soon after surgery reduces the risk of permanent damage.
Only three patients were referred and able to be treated immediately after surgery.
The research team recommended that clinicians give all patients adequate consent and made them aware of the risk of nerve damage.
They also recommended using shorter implants to guard against the risk of nerve damage.
Referral to a specialist nerve clinic should take place immediately and the implants should be removed promptly, they said.
Prof Damien Walmsley, scientific adviser at the British Dental Association, said surgery was not risk-free.
"It is essential that patients considering having dental implants are made aware of the risks, as well as benefits, associated with this procedure.
"The risk of nerve damage will vary according to where an implant is inserted in the mouth, but dentists take the precautions necessary to minimise this risk and achieve a successful outcome.
"Dentists must ensure that their patients are fully informed and understand what is involved so that they can provide informed consent.
"It's also important that patients attend all follow-up appointments to ensure that any problems identified are treated as early as possible."
Related Internet Links
The BBC is not responsible for the content of external sites.