Olympics volunteers 'taught life-saving CPR skills'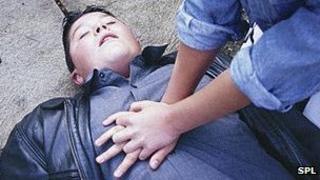 A thousand Team London volunteers are being taught life-saving skills as part of their duties for the 2012 Games.
The two-hour Heartstart course, devised by the British Heart Foundation, aims to ensure they can give vital emergency care until ambulance crew arrive.
The volunteers will learn how to deal with choking, serious bleeding and someone who is having a heart attack, as well as how to use a defibrillator.
Fifty of the volunteers will also receive extra training from paramedics.
Each year, some 30,000 people in the UK have cardiac arrests outside hospital, and nearly half are witnessed by members of the public.
Less than 10% of these people currently survive to be discharged from hospital.
Chris Hartley-Sharpe of the London Ambulance Service said the scheme would give visitors to London for the Games "the best chance of survival if they suffer a cardiac arrest".