A&Es see rise in sports injuries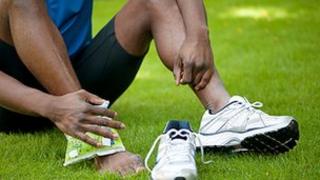 The number of people attending A&E units with sports injuries has jumped by 15% a year, official figures show.
There were just over 388,500 cases treated in the 12 months up to February, compared to 338,200 in the year before that.
About half of the cases were men aged 10 to 29, the Health and Social Care Information Centre said.
The peak times were, unsurprisingly, Saturday afternoons and on Sundays between 11am and 4pm.
The rise is part of an upwards trend in A&E visits. The number of people attending increased by 7% to 16.9m.
The centre pointed out that some of the rise could be down to better recording of data, but it also said there seemed to be more and more interest in sport.
Tim Straughan, chief executive of the HSCIC, said: "Sport seems to be catching the public imagination at the moment with the Olympics just around the corner.
"While our hospital figures do not, of course, represent levels of sports participation over time, they do give an insight into the amount of injuries ending up in A&E through sport."