My hip operation 'postponed due to doctors' strike'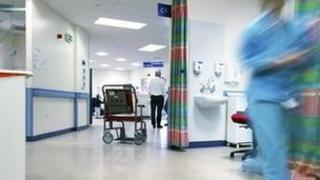 It is a time of uncertainty and anxiety.
Lyn suffers from rheumatoid arthritis and is awaiting her second hip replacement.
Her surgery was due to take place on 21 June, the day the British Medical Association is due to take industrial action.
She and her husband Andy, who live in Essex, have no quarrel with the care Lyn has received so far - but yesterday they finally heard the operation was being postponed for a fortnight.
Lyn, 53, who works for a software company, said: "I'm in pain all the time. I deal with it quite well but it's there nevertheless - when I get in and out of the car, when I get up from my desk.
"I get quite fed up as it's continual and I don't sleep very well."
Andy, 62, said: "All this uncertainty has been very distressing, and has prevented us from making any firm plans.
"Doctors are supposed to care about their patients but the industrial action is putting stress on people who've got operations planned for that date."
The BMA says doctors will be in their usual place of work, and patient safety will be their absolute priority.
Emergency cases and any patient who feels they are urgently ill will still get treated.
Members are enraged that a four-year-old pensions deal has changed again - and they say their deal is not on a par with those of leading civil servants and MPs.
'Sour taste'
Another patient due to have a hip replacement on Thursday - a 32-year-old man in Edinburgh - has suddenly been told he needs a different doctor's opinion.
And he is now back on the waiting list.
He said: "I believe sending me to see another surgeon was just to cover the fact that the operation would have been cancelled because of the strike.
"This has left a really sour taste, to say the least.
"Four surgeons have said I need the operation and I'm now again on a waiting list for it to be done in 12 weeks."
It was 1975 when doctors last restricted their work.
In this current ballot, half of BMA members who were eligible voted. Of those, around 80% backed the 24-hour industrial action.
But this has been a difficult decision for some doctors.
'Rich trying to stay rich'
A consultant in old-age psychiatry, Dr Simon Manchip, is among those who voted against taking action.
He's 47 and will be hit by the changed pension conditions - but felt this was the wrong battle.
Dr Manchip, who works in Swindon, told me: "Doctors aren't really talking about this - it is like a dog not barking in the night.
"Over the last three months, I can recall only one conversation with one of my peer group about the strike. We agreed to differ.
"But the other day I overheard a group of NHS porters having an angry conversation about it.
"They felt rich people were trying to stay rich, and those at the bottom of healthcare didn't get the same benefits."
There's no clear picture yet of how many operations, outpatient or GP appointments and diagnostic tests will have to be re-scheduled.
Dr Manchip says in his part of Wiltshire, it could take up to six weeks to re-arrange routine hospital clinics.
He added: "My NHS trust, like most others, has been trying to canvas who will and won't be working on 21 June.
"If you take an organisation like the one I work for, there are 80-100 consultants, all running clinics during the week.
"So this is a large, fluid and complex problem."
Doctors' sanctity
What impact will the dispute have on the public's attitude to the NHS?
Doctors in the UK traditionally enjoy high levels of trust - far higher than journalists, for example.
The leading pollster Ben Page, who runs Ipsos MORI, says this research is long-standing and robust.
He believes doctors' ranking is unlikely to be affected by one day of action, unless the dispute becomes more entrenched.
Mr Page said: "If it became more widely known that doctors' pensions are averaging £68,000 a year, when average wages when you're in employment - let alone a pensioner - are more like £28,000, that might make their sanctity slightly tainted.
"But frankly it's going to take a lot more than one day of action for that to happen."
The BMA is issuing its members with armbands which look like bandages, saying 'I'm caring for patients and taking industrial action.'
The union is satisfied it has a strong mandate - but if the dispute drags on, the battle for the hearts and minds of patients will intensify.