Damehood honour for Mary Archer 'for services to NHS'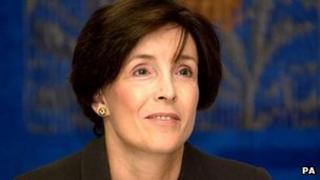 Lady Archer has become a Dame in the Queen's Birthday Honours list, for services to the NHS in Cambridgeshire.
The wife of novelist and former MP Lord Archer is stepping down as chairwoman of Cambridge University Hospitals NHS Foundation Trust after 10 years.
Tom Hughes-Hallett, chief executive of Marie Curie Cancer Care, is knighted for his work on improving care for the dying.
GPs, nurses and a healthcare assistant are also honoured.
Dr Archer is credited with driving the formation of Cambridge University Health Partners and being a champion of patient care and safety during her three terms as chairwoman of the trust.
She was also behind the development of the Cambridge Biomedical Campus, a centre for research and education.
Gareth Goodier, chief executive of Cambridge University Hospitals, said "her incredible dedication, drive and determination" was much appreciated.
He thanked her for her service to the trust and the wider NHS in the east of England.
Last year Dr Archer disclosed that she had an aggressive form of bladder cancer and had had her bladder removed.
End-of-life care
After 12 years' service at Marie Curie Cancer Care, Tom Hughes-Hallett, who has been awarded a knighthood, will retire in August.
A desire to improve care for children and adults who are dying has informed much of his career.
In 2008 he sat on the board of the Department of Health's first End-of-Life-Care Strategy, which was published in 2009.
In summer 2010, the Health Secretary Andrew Lansley asked Mr Hughes-Hallett to lead an independent review of palliative care funding.
His final report uncovered "stunning inequities" in provision of end-of-life care in England and made proposals on how to ensure that funding of palliative care providers was fair and transparent.
He said he was very proud of helping to make end-of-life care a mainstream area of healthcare.
"One thing's for sure, we're all going to die at some point. If the end is good and the patient dies without pain then other things going wrong can be excused.
"The last stage of life is so important," he said.
Mr Hughes-Hallett also chaired the Philanthropy Review last year, which was set up to boost charitable giving in the UK.
Asthma award
Also in the health sector, there is a knighthood for Prof Robert Lechler, vice principal and executive director of King's College London.
Tina Lavender, professor of midwifery at the University of Manchester School of Nursing, Midwifery and Social Work is honoured with a damehood for services to midwifery.
Her work has had an impact on reducing maternal mortality in Africa.
Prof Tak Hong Lee is honoured with a CBE for his research into asthma and allergies.
He is director of the MRC and Asthma UK Centre in Allergic Mechanisms of Asthma which was established in 2005 at King's College London and Imperial College London.
During his time there, Prof Lee oversaw the growth of the centre and encouraged a group of international scientists to share their skills and knowledge through the centre.
Genes work
Also appointed CBE are Lesley-Ann Alexander, chief executive of the Royal National Institute of Blind People, Professor Duncan Geddes, consultant in respiratory medicine at Royal Brompton Hospital and Professor Julie Williams, from Cardiff University, a leading figure in Alzheimer's research.
Prof Williams' research focuses on identifying and understanding genes which increase the risk of developing neurodegenerative disorders like Alzheimer's disease.
Four GPs, four nurses, a dermatologist and a speech and language therapist have been appointed MBE.
There is also an MBE for Patricia Connell who has demonstrated a devotion and commitment over and above her working hours as healthcare assistant at Bradford Teaching Hospital NHS Foundation Trust.