Parents and GPs 'must recognise' diabetes symptoms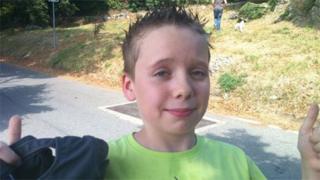 When 10-year-old Sam Rowbotham was diagnosed with Type 1 diabetes, his parents felt awful.
"We thought it was growing pains at the time. He had grown a lot, maybe four or five centimetres. We put them together and thought it was puberty," says his father Gareth, from South Yorkshire.
In fact, Sam was very ill.
He was showing some of the classic symptoms associated with the condition - constantly going to the toilet, drinking all the time and losing weight.
"His mum would listen at the door of the toilet and wonder what was wrong. He was struggling to walk down stairs because of cramp in his legs from dehydration.
"Then he just went off a cliff," says Gareth.
Sam is just one of the children featured in an online video produced by two diabetes charities to raise awareness of the symptoms of Type 1 diabetes before they reach a life-threatening stage.
It features parents and children telling their own stories about what they experienced before diagnosis.
When Sam's health really began to deteriorate and he started vomiting, his parents rushed him straight to A&E where he stayed for five days as his body adjusted to being given the insulin it so desperately needed.
'Control freak'
It was a relief to finally know what was wrong with Sam, but his father also remembers feeling angry.
"I felt like someone had poisoned my son. I wanted someone to blame, and of course there isn't anyone. I am a bit of a control freak. I'm used to sorting problems. This was one problem I couldn't sort."
Twenty-five per cent of the 2,000 children diagnosed each year currently end up in hospital before diagnosis, a statistic which Diabetes UK and Type 1 diabetes charity JDRF say is "unacceptable and easily avoidable".
Barbara Young, chief executive of Diabetes UK, says children and parents can find that experience very distressing.
"It's not how they should be diagnosed, in a state of collapse. We want to see more awareness of symptoms so families don't go through that."
Parents, grandparents, GPs, and schools should all be able to recognise the symptoms of Type 1 diabetes, she says.
Sam's condition improved very quickly once he was in hospital.
Getting used to managing his lifelong condition, however, has proved to be more of a challenge for Sam and his family.
Sam's fear of injections means he uses an insulin pump, worn on his belt, which drip-feeds his body with insulin throughout the day through a tiny tube.
But he still needs to watch what he eats carefully.
'Full of sugar'
"Sam has to programme the pump before he eats, so if he has a pizza we have to calculate the carbohydrates he is ingesting and check how much insulin we should deliver," Gareth explains.
"Chinese food is a challenge because it's so full of sugar and a lot of fat."
Sometimes, they get it wrong and give him too much insulin - which causes Sam's blood sugar levels to drop, making him feel weak and lethargic - or not enough insulin, which can lead to high blood sugar levels, which is equally dangerous.
He plays tennis every week and goes swimming but sport can also have an impact on the amount of insulin he needs.
A continuous glucose monitor, which tests Sam's blood glucose every five minutes, is an enormous help.
Overall, Gareth feels Sam has coped well.
"Sam gets to eat all he wants, can play with his mates, play video games. He has a well-adjusted childhood."
But parents themselves can be hit hard by the day-to-day management of diabetes.
"A huge focus is needed by parents to manage the condition. It becomes the overwhelming issue in the family and it's difficult for siblings too," says Barbara Young.
"Parents also say they experience a terrible sense of loss. They had a healthy child before and now their child has a very serious condition.
"But kids do adapt remarkably."