NHS industrial action by BMA doctors varies nationwide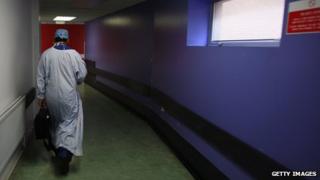 The impact of industrial action by doctors, who are boycotting non-urgent care in a dispute over pensions, has varied across the UK.
About one in 10 patients has had their treatment, operation or outpatient appointment cancelled, according to the Department of Health.
The action, by British Medical Association (BMA) members, is the first by doctors for nearly 40 years.
The BMA said the government figures should be treated with extreme caution.
The Department of Health also said 75% of GP surgeries have "a normal or near-normal service".
Earlier - at the halfway point of the 24-hour industrial action - the British Medical Association estimated that four out of five hospitals had had to cancel care.
It also said one in three GP practices was taking part in the action.
Meanwhile, the NHS in England said about 11,500 of its doctors - just above 8% - had taken part in industrial action, meaning about 2,700 elective operations and18,750 outpatient appointments - just under 10% of the usual daily activity - had been cancelled and rescheduled.
Meanwhile, about 60% of Scotland's GP surgeries have been affected to some degree, Scottish Health Secretary Nicola Sturgeon announced at Holyrood.
She said 3,200 outpatient appointments and 450 inpatient and day cases had also been cancelled due to the dispute.
In Wales, hundreds of doctors have joined the industrial action.
Official statements have come from all seven local health boards in Wales to reassure patients.
The BMA lists 475 GP practices in Wales, although it is unclear how many are taking part in the pensions protest.
The industrial action is on-going in Northern Ireland.
However, despite this, the planned opening of a new hospital in Enniskillen has gone ahead and the first baby has already been born there.
The BBC's Marie-Louise Connolly, in Northern Ireland, says about a thousand people there have had to stay at home after non-emergency appointments were postponed, sometimes by weeks, creating a backlog.
However, our correspondent says it is "business as usual" in most hospitals.
The Department of Health is collating figures from individual NHS trusts, many of which have been released.
The picture in different parts of the UK is taking shape:
An NHS London spokesman said early figures indicate that more than 90% of all its hospital doctors are working normally
It said hospitals in the London area have had to reschedule around 490 operations - about 10% of operations planned
And 83% of all GP practices in London are said to be working normally, with the remaining 17% open but treating only urgent cases
The NHS South of England said 468 operations had been postponed so far, all of which had been rescheduled
It said 3,474 outpatient appointments had been affected so far, compared with an average daily outpatient attendance of 47,000
Just over 7% of non-urgent operations were rescheduled at NHS North East hospitals and nearly 9% of outpatient appointments were moved to another date
At North Cumbria University Hospitals Trust, at least 21 non-urgent operations and 79 outpatient appointments have been rescheduled
The figures are 65 and 290 at University Hospitals of Morecambe Bay NHS Foundation Trust
In Northamptonshire, some 78% of GPs' surgeries were expected to offer a normal or near-normal service
The BMA has more than 100,000 members - just under two thirds of the profession.
Both the government and BMA have been quick to stress that patients should still seek help if they need it.
A&E units and maternity departments remain open.
GP telephone lines are also being staffed and anyone needing an urgent appointment should get one.
Only routine check-ups have been cancelled by GPs.
The BMA has argued the government is wrong to try to change the current arrangements because a new deal was only agreed in 2008.
It has pointed out that the current scheme is bringing in a surplus of £2bn a year and, under the new plans, they are being asked to contribute much more than other high earners in the public sector.
Under the plans, doctors will be asked to work for longer - until 68 - and contribute more of their pay.
But ministers have insisted the changes are necessary.