New BMA head calls for 'urgent' meeting with Lansley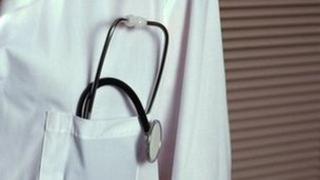 The British Medical Association's new head wants an "urgent meeting" with the health secretary, raising the prospect of resolving the pensions dispute.
Dr Mark Porter said more action was "an option", but said his election offered a possible "fresh start".
He was announced as the BMA's new chairman just hours after its members backed more action.
Health Secretary Andrew Lansley said he would welcome the opportunity to meet and discuss "the full range of issues".
Delegates at the BMA's annual conference also called for Health Secretary Andrew Lansley to resign.
It comes exactly a week after doctors across the UK boycotted non-urgent care.
The industrial action on 21 June led to thousands of non-emergency operations, such as knee and hip replacements, being cancelled and appointments at hospitals and GP surgeries disrupted.
The row is over the government's plan to reform the NHS pension, which will mean higher earners like doctors having to contribute more and work for longer.
The BMA has argued doctors are being unfairly singled out as their contributions will rise more than other public sector workers.
Speaking after the close of the Bournemouth conference, Dr Porter, who replaces Dr Hamish Meldrum as chairman, said: "There is the possibility for a fresh start here.
"Our preferred option has always been to find a fairer way forward through negotiation."
He said he would be writing to Mr Lansley to arrange the meeting, but added more industrial action "remains an option for us".
Dr Porter added the BMA leadership would meet on 18 July to discuss what to do next.
Heated debate
The request for a meeting with the health secretary raises the prospect of a resolution to the dispute.
The government is already in talks with other health unions, but has been insistent that it would not negotiate with the BMA while they were still threatening industrial action.
The health minister congratulated Dr Porter on his election and said he would "welcome the opportunity to meet with him to discuss the full range of issues that we can work together on to improve NHS care for patients".
"But just as I said to his predecessor Hamish Meldrum on many occasions, any discussion of pensions must take place alongside the other trade unions," said Mr Lansley.
"We cannot prioritise doctors over all other health workers when they have one of the most generous pension schemes."
The BBC understands ministers are willing to negotiate on two issues - the speed at which the increased contributions are introduced and the sort of work doctors will be expected to do at the end of their careers.
Doctors, along with other health workers, have said the demanding nature of the NHS means working until 68 would not be safe.
Dr Porter's move comes after delegates at the conference voted in favour of a motion saying further industrial action was necessary - although under the BMA's rules these votes are not binding on the leadership.
During a heated debate, which also saw a motion passed calling for Mr Lansley's resignation because the profession had no confidence in him, doctors expressed anger about the changes the government is making to the NHS scheme.
Kevin O'Kane, an acute medicine consultant from London, said: "We will fight back, we will fight hard and we will fight for as long as it takes us to get fair treatment.
Dr Andrew Rowland, a paediatric consultant, said the changes were "unfair and unjust".
"I feel so strongly about this issue that I believe we should not let it lie."