Do you regret your tattoo?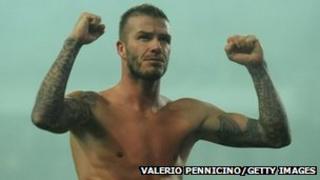 David Beckham is just one of many celebrities to have adorned his body with permanent ink in dedication to his wife and four children.
The pitches of Ukraine and Poland were full of footballers sporting tattoos of all shapes and sizes during the recent European Championship.
Female celebrities like Cheryl Cole, Angelina Jolie and Kelly Osbourne are also known to be big fans of body art.
There has been a surge in tattoo popularity in recent years - an estimated one in five British adults has one. If you don't have one yourself then you'll probably know someone who does.
But is everyone happy with their tattoos?
Mel Chisholm, formerly known as Sporty Spice, told Good Housekeeping she was considering having some of the 11 tattoos she had done in the 1990s removed and would not want her daughter Scarlet to have any at all.
For the magazine's photo shoot, the former Spice Girl had the tattoos digitally removed.
But it seems Mel C isn't the only person who has tattoo regret.
Upper body
Research being presented at the British Association of Dermatologists' conference this week suggests nearly one in three people regret tattoos.
Skin experts at Burnley General Hospital surveyed nearly 600 people during a six-month period.
They found men were more likely to regret tattoos than women and three times more likely to regret tattoos drawn when they were under the age of 16.
Most people who regretted tattoos had them on their upper body.
But, surprisingly, fewer than half of those who regretted their tattoo would actually have it removed if able to do so, the study found.
Dr Caroline Owen, a skin consultant with East Lancashire Hospital NHS Trust who conducted the research with a colleague, said: "I would like to see an enforced cooling-off period so that people who get them done on a stag or hen party, when they've drunk too much, have to go away and think about it first."
A tattoo involves injecting dye into a deep layer of skin, below the epidermis.
They can be removed with laser treatment, but some colours and sizes of tattoo are more difficult to remove than others and can leave a degree of shading on the skin. Some people can also end up with scarring.
Laser technology works by allowing light to pass through the skin and break up the ink into tiny particles.
Between six and eight treatment sessions are usually needed and each can cost several hundred pounds.
Dr Owen said: "We feel that this should become an important health message as tattoo removal is not freely available and unwanted tattoos can affect life chances and cause... upset and unhappiness."