Two thirds 'turn to drink' to relax in the evening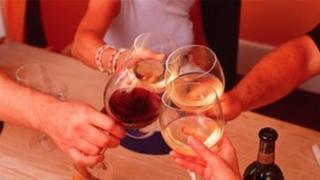 Almost two-thirds of people rely on alcohol to relax in the evenings, the charity Drinkaware has warned.
A poll of 2,000 adults aged 30-45 carried out by ICM found 44% drank all or most - and a third think about having a swift drink before they even get home.
Stress - and bad days at work - were the most common reasons for drinking.
Experts from Drinkaware warned that alcohol might appear to aid stress - but often made things worse.
A third of men surveyed who drank at home, and nearly half of women, said they drank above the daily limit - three to four units of alcohol for men and two to three for women.
Most - 68% - made sure they had alcohol at home, and 71% said they bought alcohol as part of the weekly grocery shop.
A third sit down in front of the TV after dinner for their first drink, while a quarter had alcohol with their evening meal.
Problems 'creep up'
Siobhan McCann, head of campaigns and communications at Drinkaware, says: "Alcohol can be a 'false friend' when you are trying to deal with stress.
"Even though it might seem like a few drinks can relieve the pressures of the day, in the medium to long term it can actually add to them - whether they're work, financial or family-related.
"Stress can also be an excuse for people to drink more than they should, especially if they don't realise the negative impact it can have on their health and well-being."
Emily Robinson, director of campaigns for the charity Alcohol Concern, said: "Many people use alcohol to relax but this can lead to more problems.
"Although alcohol may make you feel sleepy and reduce the time it takes to fall asleep, the quality of sleep is often poor.
"Alcohol is also a depressant so feelings of anxiety may get worse by drinking and causing someone to feel more stressed."
She added: "What's worrying is that drinking at home regularly can be habit-forming and lead to a range of health problems that can creep up on people as well as potentially develop an addiction.
"One of the findings of the research is that people are drinking following a day's work, so more needs to be done by employers to try to relieve stress at work.
"Employers should play their part and not actively promote an after-work drinking culture which leads into drinking more alcohol at home."