Diabetes checks 'should be available in job centres'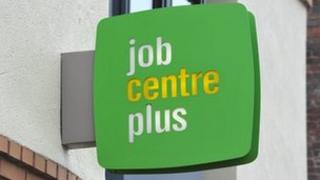 Diabetes checks should be offered to the over-40s in settings ranging from libraries to job centres across England, a health watchdog has said.
The National Institute for Health and Clinical Excellence (NICE) says identifying those at high risk means they could be offered care and advice.
People aged 40 to 74 are already supposed to have a general health check, including diabetes risk.
But Diabetes UK said this check was not always taken up.
The NICE guidance seeks to help identify people at high risk of Type 2 diabetes.
The condition occurs when the body fails to produce enough insulin, or when cells fail to use insulin properly.
About three million people in the UK have diabetes, with about 90% of those having Type 2.
'Large-scale problem'
NICE recommends everyone over 40, except pregnant women, should be checked for the condition.
It also says people aged 25 to 39 of high-risk black and Asian ethnic minority background - who have an increased risk of Type 2 - should also be assessed.
And it suggests that paper-based or online risk assessments, like one drawn up by Diabetes UK , should be available in a wide range of community and workplace settings.
Once people have been assessed as being high risk because of their lifestyle, they should be offered a blood test and should then be referred to a local "lifestyle change" programme to help them improve their condition.
Prof Mike Kelly, director of the Centre for Public Health Excellence at NICE, said: "Type 2 diabetes is a very large-scale problem and it is important for people to know that it is preventable, and there are simple steps that can be taken to help reduce the risk of developing the disease.
"This guidance will help people to identify their own personal risk and highlights that by losing weight, being more active and improving their diet, they can delay or prevent Type 2 diabetes."
Diabetes UK welcomed the guidance, and said it was vital to pick up the condition as early as possible.
They said community assessments could help.
A spokesman added: "There are some people who are at high risk but might not be likely to get risk-assessed if the only option is doing it in a clinical setting."
Diabetes UK chief executive Barbara Young said more work was needed to ensure the NHS Health Check programme was properly implemented.
"Only about three quarters of the expected number of people were offered a health check last year and only half of those offers were taken up.
"There are some places where hardly anyone has been given a check."