Challenges of training health staff in rural Nigeria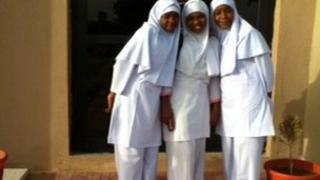 We often hear about the struggle to recruit and retain health workers in rural communities in developing countries. I saw an attempt to provide a solution at first-hand recently in northern Nigeria, where a college of nursing and midwifery has just opened its doors.
The young students train in an area that looks like a conventional hospital ward - but the patients are in fact mannequins.
Aisha Kazaure, who co-ordinates midwifery training at the new college, in Jigawa state, said: "This is where we practise with the students before we go to the hospital and set them on live patients.
"We have life-size dummies for practising every procedure, including the method and mechanics of birth."
The trainee midwives learn how to bring a baby into the world safely, with the help of a wooden model.
Teething problems
Aisha admitted that even getting to this point had been difficult.
The project to build the college began more than two years ago, and has cost the state government $15m (£9.6m).
The college premises are impressive, but a few teething problems remain. For instance, the computer room has 40 PCs, but they are yet to be connected to a server.
However, the first graduation is due in September - and it seems that not much will dampen the students' spirits.
In the dormitory she shares with three other young women, Sharifa, 21, told me about the highlights so far of her three-year midwifery course.
She said: "It brought joy seeing myself in a ward in my uniform, trying to conduct a delivery.
"I've seen uncountable deliveries now - and been involved in four. Three went well. The other one was a breach delivery, so I had to use my hand to help the baby."
Sharifa said it had been a wonderful feeling when that particular delivery had proceeded well and the baby survived.
The hope is these new nurses and midwives will stay in Jigawa's villages once their training is complete, rather than drifting to towns and cities where the work is usually better paid.
The college represents a start in addressing what has been a gaping lack of resources.
Four years ago in Jigawa, there were only 14 midwives, trying to cover more than 600 small health centres.
A programme called Paths 2, funded by the British government, is working to improve the state's health system. Its staff helped with advice about the training college project.
The driving motivation behind Paths 2 is to reduce the state's high level of preventable deaths among pregnant women.
The programme's state team leader, Kende Abubakar, told me: "Jigawa has the highest maternal mortality in Nigeria.
"The rate of deaths among women, related to complications in pregnancy and birth, is almost 2,000 per 100,000 of the population.
"This is unacceptable and needs to be reversed. One of the ways we can intervene is by training more skilled personnel to serve the state's population of 4.5 million people."
The next day in Duhuwa, the problem of health-worker shortages was brought into sharp focus.
This village is about five miles from the nearest main road.
There is a sense of self-sufficiency - it has a solar panel and also a credit union for pooling everyone's savings.
It is a lively place with about 100 inhabitants - but they are mostly children, middle aged or elderly.
The young, it seems, have all left for the towns, to scratch out a living.
At an informal meeting on a classroom floor, the villagers were complaining through a translator that they had no permanent health worker.
In response, Susan Elden, a health adviser with the UK government's Department For International Development said a training place could be found at the new college - if the village nominated a suitable candidate and provided accommodation for a clinic.
She told the meeting: "If they have the ability to make this happen here, by providing the worker and the facility, we can provide the things to make it a good quality service."
The proposal was welcomed, with a round of applause from the villagers.
It sums up how I saw aid functioning here - Nigerians are asked to seize the initiative in finding their own solutions.
Only then does the foreign guidance kick in, followed by money if necessary.
This oil rich country has health problems that still pose substantial challenges. But some of the work on the ground signals hope for a better future.