'Nobody is prepared' - The challenges of ageing with HIV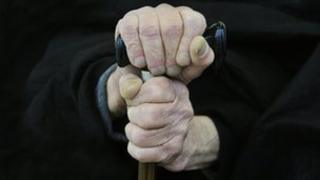 People with HIV are living into old age - something that was inconceivable a few years ago. But while longer lives are of course welcome, it brings new challenges.
It is 16 years since delegates at the World Aids Conference in Vancouver heard the seismic news that drugs to control HIV had been developed.
After more than a decade of lives lost to HIV, here at last was hope for the future.
Hailed as the medical miracle of our lifetime, these early HIV drugs got people off their death beds and back to lives changed, but not ended, by an incurable virus.
The drugs were hard task-masters - people had to take handfuls of pills and the side effects were debilitating.
But they kept thousands of people alive in countries that could afford to make the drugs available.
Side effects
As 25,000 people gather in Washington for the 19th World Aids Conference, they will be discussing an issue those Vancouver delegates hardly dared dream of: the challenge of ageing with HIV.
As one man put it: "We are the first generation to get to their 50s and nobody is prepared for that.
"We are just going into the dark and nobody knows what we are going to be doing in 10 years."
Modern HIV drugs are much easier to take, but the effects of living long-term with HIV and the side-effects of treatments are becoming clearer.
Put simply, a 60-year-old with HIV is like a 70-year-old without it.
Alice, in her 50s, described the problem. "I take strong medication and I feel blank and dizzy sometimes. It is not easy to walk and do the shopping, carrying heavy bags."
Older people with HIV have twice as many age-related health conditions as their HIV negative peers.
High blood pressure, kidney and liver problems and arthritis are common, so a focus on diet and exercise is particularly important.
It is clear, too, that there is work to be done to bring health and social care services up to speed with the needs of older people with HIV.
Research carried out by Terrence Higgins Trust (THT) and Age UK repeatedly found stories of discrimination, ignorance and poor clinical treatment in general health services.
There was the 80-year-old who could not get home help because staff refused to enter her house, a woman who heard her HIV status being discussed in a GP's reception in front of other patients, and a man ridiculed and embarrassed by a dentist for having HIV.
Amplified worries
And what of residential services? The first openly gay people are heading towards care homes, many of them worried about homophobia and HIV prejudice.
As one man put it, "I fear that if I need to be cared for, the carer would be as ill-informed and prejudiced about HIV as the general public."
The drugs are life-saving, but the challenge of ageing well with HIV is considerable.
Experts say that services for older people must properly take HIV into account. In the US, they have begun to bring HIV clinicians, geriatricians and other physicians together to share expertise and improve practice.
So with the right support, it's possible to live a healthy life into old age with HIV.
But equally important is the financial support to do so, and for many, that's a huge concern.
Those diagnosed at the start of the epidemic may have been forced to give up work due to ill health, and many stopped making provision for their pension because they did not expect to live that long.
Worries about money and increasing ill health and feelings of loneliness or isolation are common for older people with HIV, again amplified versions of those their HIV negative peers report.
There will be the usual debates in Washington about how best to prevent HIV from spreading, about whether a cure is a reasonable ambition, and how to support the millions of people with HIV around the world to live long and healthy lives.
It depends on the availability of treatment, certainly.
But in reality, the drugs are not the end of the story.