Wide variation in cancer referral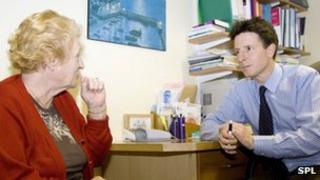 There is "wide variation" in the number of suspected cancer patients who GPs choose to refer to hospital in England, according to data from the National Cancer Intelligence Network (NCIN).
The raw data is crude as it does not account for affluence or the number of smokers in each surgery's patch.
But, the NCIN said the variation was so large that some doctors were referring very few, or very many, patients.
Cancer Research UK said the difference was "very worrying".
Data from more than a million patients showed a three-fold variation ranging from 830 to 2,550 urgent referrals for every 100,000 patients seen each year.
Dr Mick Peake, the clinical lead for the NCIN, said: "The data are not easy to interpret since we do not know what the 'optimum' level is for these measures."
He admitted that differences between the types of patient were not fully accounted for.
A surgery with lots of patients who smoke in a relatively poor part of the country is likely to see more cancer patients, and therefore refer more, than one with wealthy non-smoking patients.
"However, the range of the variation is so wide that, at the extremes, it probably reflects differing standards of care," he said.
The national cancer director Professor Sir Mike Richards, said: "Everyone with persistent symptoms which could be cancer should be checked out urgently, as the earlier a cancer is diagnosed, the more treatable it tends to be."
He urged GPs to consider their own practices to see if they could improve their care.
Sarah Woolnough, Cancer Research UK's executive director of policy and information, said: "It's very worrying to see a more than three-fold variation in the rate of urgent cancer referrals among GPs.
"We urgently need to learn more about what's behind these differences and tackle any poor practice.
"We already know that some patients present several times with cancer symptoms before being referred for further investigation, which can lead to late diagnosis. And a delayed cancer diagnosis could prove critical for a patient's chance of survival."