Legacy for anti-doping centre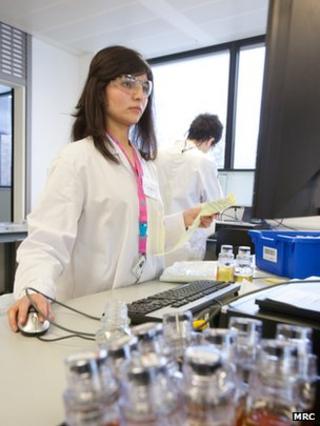 The anti-doping facility being used to test samples during the Olympic and Paralympic Games is to be turned into a medical research unit.
The MRC-NIHR Phenome Centre will look for new molecular 'biomarkers' for disease by analysing samples from patients and volunteers.
At present the unit at Harlow, Essex is testing urine and blood samples from athletes, looking for more than 240 prohibited substances. Every Olympic medallist and a random selection of other competitors will be tested.
The new Phenome Centre will be funded over five years by an investment of £5million each from the Medical Research Council (MRC) and the National Institute of Health Research (NIHR).
It will develop the facility provided by GlaxoSmithKline (GSK) and operated by King's College, London.
Imperial College London will lead the academic group at the Centre which includes King's College.
Phenome
Phenome describes the entire mixture of molecules in our bodies - in our blood, urine and tissue - the result of both our genetic inheritance and our lifestyle.
It is similar to the term phenotype which is the observable traits of an organism - influenced by its genome and the environment.
The Phenome Centre will aim to use and develop the sensitive anti-doping facilities to analyse samples in a faster and more detailed manner than previously possible.
Researchers hope to find new biomarkers in cells, molecules or genes which may explain why some individuals or groups are more susceptible to disease than others. The ultimate goal is to use this knowledge to find new, safer and more targeted treatments.
Professor Sir John Savill, Chief Executive of the MRC said it would "provide a unique resource that will ultimately result in benefits for patients". He added: "This is a phenomenal legacy from the Games."
Prof Dame Sally Davies, Chief Medical Officer for England said: "This research Centre will transform our understanding of people's physical characteristics and disease, and enable use to pull through these discoveries into real benefits for patients."
The Phenome Centre will open in January 2013.