Male drug poisoning deaths fall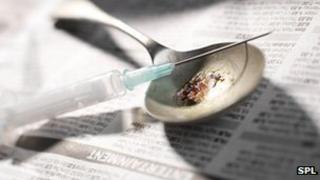 The number of deaths from drug poisoning, from both legal and illegal substances, fell by 6% in men in England and Wales between 2010 and 2011.
Figures from the Office for National Statistics (ONS) also showed a 3% increase in deaths among women.
In 2011, 1,772 men and 880 women died after taking drugs.
Most were accidental deaths through poisoning, but the figures also included people taking their own life.
There was a fall of 25% in deaths from heroin and morphine between 2010 and 2011. The ONS said this was down to a "heroin drought in the UK".
However, deaths from methadone, which is used to treat heroin addiction, increased from 355 in 2010 to 486 in 2011.
Helium
Over the past five years deaths from both helium gas and barbiturates have increased consistently. Commenting on the rise, the ONS said: "The large increases may be of particular interest to suicide prevention researchers as almost all of these deaths were suicides."
The public health minister, Anne Milton, said any death was a "tragedy for the victim, their families and their friends".
She added: "Our drugs strategy aims to get people off drugs and stay off drugs.
"From next year, local authorities will be given a ring-fenced public health budget to tackle local public health issues. This will offer real opportunities to integrate drug treatment and other local services."
The National Treatment Agency for Substance Misuse said fewer people were dying from the most dangerous drugs.
Its director of delivery, Rosanna O'Connor, said: "This reflects official statistics showing declining drug use and falling demand for treatment among young people.
"It is the over-40s, typically in poor health from a lifetime's drug use, who are at greater risk of dying from overdose. For them, and all drug misusers, treatment remains the best defence against drug-related death."
Figures released earlier in August for Scotland reported the highest ever number of drugs related deaths in 2011.