Loss of patient data was 'serious management failure'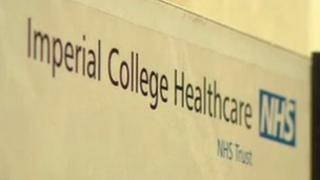 A review into why one of the UK's biggest NHS trusts lost data about patients has blamed "a serious management failure".
Patients referred because of suspected cancer were among those affected by the problems at Imperial College Healthcare.
Papers from an external review show how delays built up over three years.
The trust, which runs four big hospitals in London, says there is no evidence patients were harmed.
But it has apologised to patients for "concern and distress" caused by what it admitted was poor record keeping.
BBC News revealed two months ago that the deaths of 25 patients were under review as part of an inquiry into the problems.
A report containing strong criticism of the failures was presented to a meeting of Imperial's board this morning.
It said: "It appears that sometime between 2008 and mid-2011 the Trust lost management grip of delivery of waiting time standards.
"Clearly, it was a serious management failure to allow matters to deteriorate to the situation reached by mid-2011.
"The Board was not aware of the problems...the priorities from the top were finance and A&E (Accident and Emergency) performance.
"There was a light touch regime on elective waiting times because the Trust appeared to be performing well.
"Until mid-2011, many managers and staff did not recognise the importance of ensuring the basics are done excellently."
'Ignorant'
The review also said "antiquated computer systems" caused problems, although it noted these could have been made to work.
And it said "many people at all levels were ignorant" about the basics of managing the national rules on waiting times, and how patients should progress through the system.
Imperial was allowed to suspend the reporting of its waiting times for planned operations to the government for the first six months of this year, in an unprecedented move, because the problems had resulted in a backlog.
The report noted there had since been "significant changes" to Imperial's management team.
A separate clinical review re-examined the details of 1,000 out-patients and 450 patients who had been admitted. It also looked at records for more than 300 patients who had died while on the waiting list.
The trust's chief executive, Mark Davies, said: "The independent report found no evidence of any clinical harm resulting from these failures but we are not complacent in any way.
"I am only too aware that both the poor standard of record keeping in the past, and the measures we have had to take to address this, may have resulted in concern for patients and their families.
"I would like to apologise unequivocally for any distress that might have been caused.
"We have implemented new systems for recording patient information, improved staff training and radically changed management structures, with the appointment of a new Chief Operating Officer who is personally overseeing these changes."
Councillor Sarah Richardson, the chair of the adults and health scrutiny committee at Westminster City Council, said: "Today's report highlights the role of weak management and poor computer systems and inadequate internal reporting as key factors contributing to delayed referrals at Imperial College NHS Trust for patients seeking diagnosis for cancer.
"This contributed directly to patients suffering pain, worry and possible deterioration in their conditions."